FAQs
Is your solution really free?  What's the catch?
Yes, it's really free!  There's no catch.  We hope you and your customers will be delighted by our free system, and that many of you will upgrade to our paid system and services.  If not, no worries!  Just tell your customers and fellow restaurants, cafes, bakeries, and florists about us.  We all win when customers order without waiting. It keeps everyone safer when many people are afraid of crowds.
Why is app ordering better than web ordering?
20 years ago, web ordering was in its prime.  But now, people strongly prefer apps.  Just think of Whatsapp, Facebook, Whatsapp, Instagram, Youtube.  These all have web versions, but billions prefer using the apps.
But I use Amazon on the web!  Ordering from restaurants and local merchants is not like shopping on Amazon.  People are often mobile when they want to order a coffee or meal.  Or already outside when buying flowers.  Ordering from the web is harder when you are mobile.  You have to navigate to the right website, login with password, share your location, wait for webpages to load, and/or enter credit cards.  That's a lot of trouble.  That's the reason people prefer to order an Uber ride from their Uber app, not the Uber website.  Apps are better when you might be mobile.
App ordering drives repeat orders.  Web ordering does not.  With CIRCL, customers can re-order in 10 seconds.  With the web, it can easily take 2-3 minutes…that's 10 times longer!
An illustration can helps.  Let's say Restaurant APP does app ordering, and Restaurant WWW does web ordering.  Both ask their regulars to order online.  APP asks customers to use the CIRCL app.  WWW asks customers to order from their website.  
APP gives a big promotion for the first app order, and converts 30% of their regulars to app ordering.  80% of these switch permanently to app ordering since it is so easy to use.  They now have 24% of their overall customers ordering via an app.  In addition, these 24% now order twice as much since they can customize their dishes and re-order the entire order in 10 seconds.  On average, these customers spend double what they did before due to higher order sizes and more frequent purchases.  As a result, APP permanently increases total sales by 24%.
WWW gives the same big promotion for the first web order and converts 80% of their regulars.  But because the website is hard to remember and use, only 1% continue to use it.  (That's realistic!)  So as a result, WWW has not increased sales.  In fact, they are losing sales to other restaurants that have deployed app ordering.
How can you help me convert my customers to online ordering?
We require all merchants on the free Go Online tier to give 20% off on the first order for each registered user.  To be eligible, each user must verify their mobile phone via an SMS code.   We provide this phone number to merchants in each order in case issues arise.
With this 20% discount, users of the CIRCL app will use the app to discover new restaurants and merchants. 
Note this 20% is lower than the fee charged by almost all delivery apps and it is only one-time.  And it goes to customers, not to the platform.  On subsequent transactions, you save the entire 25-35% that delivery apps typically charge for takeaway orders — even though they are not delivering!  Don't let them gouge your precious profits from takeout orders!
What do I need to start receiving orders?

For the free Go Online tier, use the CIRCL Store app, which requires
Any iPhone with iOS 8 or newer (any 2011 iPhone 4s or newer with an up-to-date operating system)

Any phone with Android 7.0 Nougat or newer, (most Androids since 2017)
For upgraded price plans, Go PRO and Go Outsource, use the CIRCL PRO app, which requires
Any Android phone with Android 6.0 Marshmallow or newer
How do I automatically print orders?

Set up an account and menu using the CIRCL Store app (iOS or Android)

Upgrade to PRO or Outsource by emailing us at support@circl.it

Order a printer…see below

Get any Android phone with Android 6.0 Marshmallow or newer (2-3 years old is pretty safe).  Be sure to use a dedicated phone or tablet for CIRCL and not share it with another app, e.g. don't use your POS tablet.  This way you'll avoid missing orders.

Download the CIRCL PRO app from Google Play Store

Connect the printer by turning on Bluetooth on your Android and then going into Settings>Printer to connect it.  When prompted, type in the password provided with the printer.

Select when you'd like it to print, upon Order Acceptance (for a kitchen order chit) and/or Order Completion (for pickup slip and customer receipt)

Send yourself a test order…it should print automatically!
What's the difference between secure printing and non-secure printing?

Unsecured Bluetooth connections can get mixed up, especially if there are other Bluetooth devices nearby.  This may cause your printer to lose its Bluetooth connection periodically.

Secure Bluetooth requires a password to connect.  This means your Secure Bluetooth Printer will not try to pair with other devices.  It provides a much more stable connection.
How do I order a printer?

We will ship it to you by post

Delivery is currently delayed due to COVID-19, so please expect 14-31 days if you are not in Singapore

Purchase by emailing us at hi@circl.it
How much are Stripe's payment processing fees?
You can see Stripe's fees on the table here
When will I get paid?

Stripe automatically pays your bank account after a fixed number of days.  This varies by country.  For major countries, this payout take 3-7 days from the customer payment date.  You may check your payout schedule here.
👍🏻

 Get the FREE merchant app here:
…and start taking online orders within 5 minutes!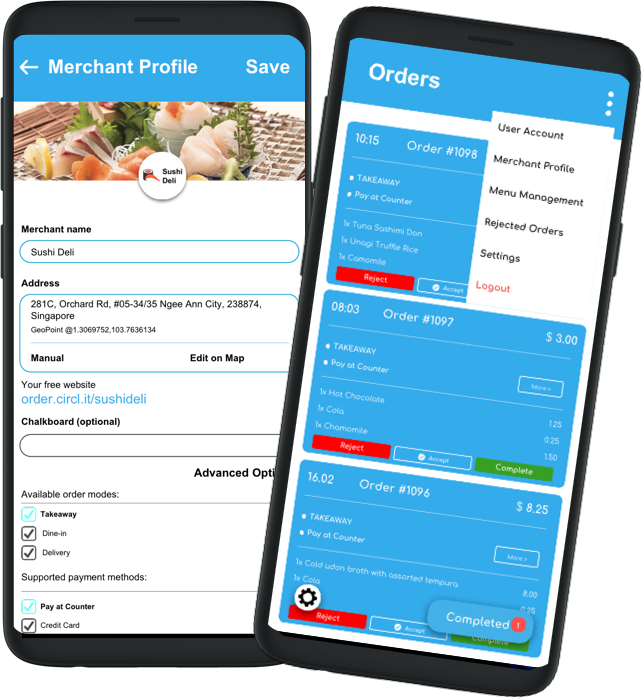 Copyright CIRCL Pte. Ltd. 2020 | All rights reserved