There are so many things you can learn from a culture just by taking a deeper look into its cuisine. Spring rolls, a dish that is widely known by people as Vietnamese food, is a great example, but is simply not enough to experience Vietnamese flavours fully. Indeed, there are many more delicious dishes this beautiful country has to offer. That is precisely why we have created a list of Vietnamese restaurants that you need to try, because there is so much more to Vietnam than spring rolls!  
1. Bún Chả Việtnamese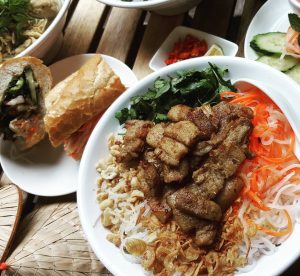 (Image courtesy from Bun Cha Vietnamese)
Bun Cha is a Vietnamese restaurant that opened not too long ago in SoHo. As you enter the restaurant, you can see that all staff members are Vietnamese, a great indicator if you are looking for an authentic Vietnamese taste. The interior of the restaurant is an open kitchen concept. This allows the customer to watch as all the colourful herbs are being turned into the beautiful dish they will be eating. Other than that, the open kitchen also allows the amazing fragrances of Vietnamese ingredients that are being cooked to fill the room. Bun cha itself is a kind of Vietnamese food that had been loved for centuries. The name is very literal in Vietnamese with "Cha" meaning grilled fatty pork, and "Bun" referring to a kind of noodle used in this type of food. This dish comes with a plate of rice noodles, fresh herbs, and a bowl of cold broth with grilled pork. You then just dip everything in the sauce, and keep wanting more! The bun cha here was definitely a winner. The lemongrass pork had a beautiful char, giving the meat a smoky flavour to it. They are also not stingy when it comes to portion size. You're served a lot of noodles, herbs, peanuts, and sauce.
Bun Cha Vietnamese
Address: 
King Ho Building, Shop 1, G/F, Aberdeen Street
Sheung Wan, Hong Kong
Opening Hours: 
Mon-Fri: 11.45AM – 04.30PM | 06.00PM – 10.00PM
Closest MTR: 
Sheung Wan
2. BEP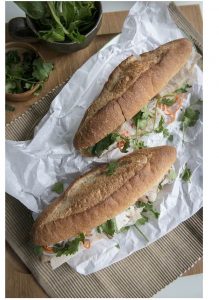 (Image courtesy from BEP Vietnamese Kitchen)
BEP simply means a Vietnamese Kitchen. With such a simple and straightforward name, BEP Vietnamese kitchen wants to bring a homey feel to its restaurant, they want each guest to feel as if they belong to the family of this loving chef. This restaurant is determined to bring you an authentic Vietnamese experience that will make you longing to come back for more. The interior of the restaurant feels pretty modern, with a vibe matching ones that you will get in a chic new cafe around the corner. Dominated with wooden elements and white tiles, this restaurant gives you a combination of rustic to a more modern and simple look. There are two kinds of seats that the customer can choose from, the four-seater booths and their bar area. Customer will get a wide range of food selections to choose from, as this kitchen offers so many different Vietnamese dishes that you'd love. Out of many of their dishes, one stood out to me which is their take on the Banh Mi. Crisp pork belly or lemongrass grilled beef that are cooked and charred, complemented by pickled carrots- made right here in the BEP kitchen, cucumber, coriander leaves, and mayo, all filled into a fresh baguette. Definitely an interesting and delicious twist to an otherwise familiar banh mi.
BEP Vietnamese Kitchen
Address: 
G/F, 88-90 Wellington Street
Central, Hong Kong
Opening Hours: 
Mon-Fri: 11.30AM -04.30PM | 06.00PM – 11.00PM
Closest MTR: 
Central
3. Brass Spoon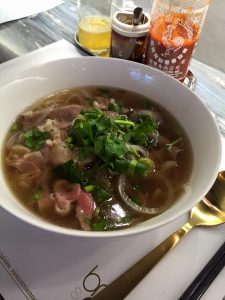 (Image courtesy from The Brass Spoon)
Brass Spoon is a popular Vietnamese restaurant located in Wan Chai. They pride themselves on their premium ingredients, no use of MSG, and their beautifully clean and light flavours. The menu that they give you is a simple sheet of paper where you can customise your perfect bowl of pho: from what kind of beef you want (premium raw – raw – raw and cooked – cooked), which ingredients you don't want in your bowl, more or less of the standard toppings (onions – scallions – coriander – beef oil), extra toppings, even appetisers and drinks.
The raw premium beef pho comes with a few slices of raw beef. But as you eat and stir it around, the hot broth will cook it slowly, making it cooked on the outside but still nice and pink on the inside and infused with flavours. You can definitely tell that all the ingredients they used are pretty fresh and of high quality. The broth itself has a deep flavour with a noticeable umami, a sweetness you can definitely tell, coming from the beef.
The Brass Spoon
Address: 
Shop B, G/F, 3 Moon Street
Wan Chai, Hong Kong
Opening Hours: 
Mon-Sun: 12.00PM – 07.00PM
Closest MTR: 
Wan Chai
4. What the Pho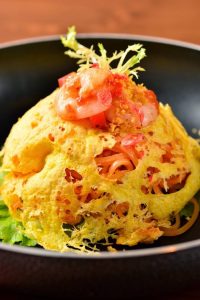 (Image courtesy from What The Pho)
 What the Pho is a Vietnamese restaurant located in Tuen Mun. It is quite a famous restaurant as it is pretty crowded with customers. It has a semi open kitchen, making the smell of the cooked food spread throughout the room, increasing your appetite.
One of their popular dishes is the rice noodles wrapped with egg crepe. The rice noodles are slightly firm, making the overall dish have nice texture. Inside, there are a lot of shrimps, giving it a slight crunch, a perfect combination. The whole dish is then wrapped in a thin egg crepe, giving it another layer of texture and flavour. What The Pho offers so many different kinds of Vietnamese dishes with fusions from many different countries, especially South East Asian countries, such as their Tom Yum Koong Seafood Fried Rice, Minced Pork Fried Rice with Belacan, and so many others! The flavours truly blew me away.
What The Pho
Address: 
Tuen Mun Town Plaza, Phase 1, 3/F, Shop 3271, Tuen Shun Street
Tuen Mun, Hong Kong
Opening Hours: 
Mon-Sun: 11.30AM – 11.00PM
Closest MTR: 
Tuen Mun
5. Pho Bar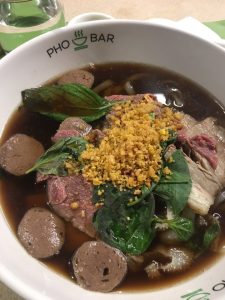 (Image courtesy from Pho Bar Fan Page)
 Pho Bar is a little bit of a hidden gem here in Li Yuen Street West. Situated around Cha Chan Tengs and market stalls, it is easy to miss if not for the line of guests waiting to be seated. As it is a pretty small restaurant, it can only accommodate around 20 people at a time: twelve of them on the counter, and the others on two four-seating booths. You can order by ticking off their paper menu, so no need to wait too long for a waiter to be available. Their supreme combo has all of the available toppings they have. Also you can choose what condiments you want in your pho, the choices include mint, thai basil, bean sprouts, scallions, coriander, onion, and fried garlic. I usually all the topipings for maximum flavours.
The supreme pho contains different types of meat: a medium rare filet mignon, beef meatballs, tripe, oxtail, and beef shank. The pho broth is dense with flavour deep, showing that the broth had been boiled for a long time. It is said that the broth is cooked for at least 18 hours and made using USDA and Angus Beef. It is richer because of how much bone that goes over making each batch. There are over 13kgs of beef parts used to make around 50 bowls of soup. This is the place for beef and pho lovers!
Pho Bar
Address: 
24 Li Yuen Street West
Central, Hong Kong
Opening Hours: 
Mon-Sun: 11.00AM – 09.00PM
6. Chào Chào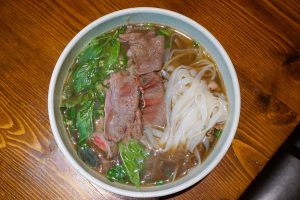 (Image courtesy from Chao Chao Fan Page)
  This Vietnamese restaurant's name literally means Vietnamese Kid. it is located along Electric Road in Tin Hau, a walking distance from a lot of popular spots in HK. The interior is relatively small, with rectangular shaped tables seating two to four people. The decoration is just simple paddy hats pasted all over the walls, giving you a traditional feel. Even though the place is small, it is not too cramped. The room is dimly lit, giving it a calmer vibe.
The food here is very reasonably priced, with the Pho with raw beef and a drink costing just below HK$50. The pho here is nice and flavourful, with a clean tasting soup and a very tender beef. The noodles are nice and soft, but still retaining a little bit of chewiness. The portion is quite generously-sized, too! Just enough but not too much at all. Definitely a winner in my book.
Chao Chao
Address: 
G/F, 64 Electric Road
Tin Hau, Hong Kong
Opening Hours: 
Mon-Sat: 12.00AM – 10.00PM
Closest MTR: 
Tin Hau
7. An Nam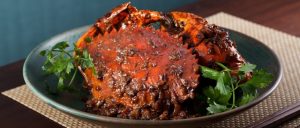 (Image courtesy from An Nam)
  An Nam is a Vietnamese restaurant that wants to bring back the days of the French colonial presence in Southeast Asia from the 1920s, letting the diners enjoy authentic Vietnamese food in an elegant and warm setting, fully experiencing the colonial era of the country.
Guests can clearly see as they walk into the restaurant a very strong influence from France. Noticing the utensils used, the napkins neatly folded next to the plate, the tall wine glass, the shape of the chairs, everything really screams France to me. But there are also some strong Vietnamese elements in this restaurant, such as the green doors, and the window covers. There are a few signature dishes that An Nam has to offer, one of them being a stunning tamarind crab.
This dish is made out of  Vietnamese crab. Anything up to three to four kilos are fried in a wok with their signature sauce, consisting of a variety of Vietnamese spices such as tamarind sauce, black pepper, dark sugar, red cluster pepper, garlic, and purple onion. This dish is quite spicy, but it certainly carries an authentic and warm taste of Vietnam.
An Nam
Address: 
4/F, Lee Garden One, 33 Hysan Avenue
Causeway Bay, Hong Kong
Opening Hours: 
Mon-Sun: 11.30AM – 11.30PM
Closest MTR: 
Tin Hau
8. Chôm Chôm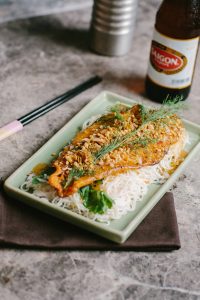 (Image courtesy from Chom Chom)
 Chôm Chôm was known as Chef Peter Cuong Franklin's private kitchen, serving authentic Vietnamese food in a small restaurant on Wellington Street. Now however, it has been completely revamped, has moves to Peel Street, the new Chôm Chôm is a 'bia hoi', a Vietnamese draft beer bar and eatery. Wanting to show that there is so much more to Vietnamese cuisine than Pho, Chef Peter reinvented Chôm Chôm and its menu, now serving up popular Vietnamese street snacks and charcoal grilled dishes, with a wide range of craft beers.
The restaurant is a casual 45-seat space, with a simple and minimalistic design, making it look modern and casual. The space is dominated by white and there are plenty of lights around the room. A perfect place to hangout.
As you can see, the dish offered in the new Chôm Chôm is much more modern than at your usual Vietnamese restaurant. This dish is a sole fillet that is super crispy on the outside but tender and juicy on the inside. It is served over a fresh and lime-infused vermicelli and it is truly like a match made in heaven.
If you really wants to eat pho, though, unfortunately there is none. But there is a reinvented version of it, a great alternative to fulfil those cravings. I recommend the pho rolls, which are bite-sized rolls of grilled beef and pickles that are rolled within rice noodles. The bottom is charred and crunchy, definitely a great and interesting twist to the familiar taste in my opinion.
Chom Chom
Address: 
58 Peel Street
Central, Hong Kong
Opening Hours: 
Sun-Wed: 05.00PM – 10.45PM
Thu-Sat: 05.00PM – 12.15AM
Closest MTR: 
Central
9. Nha Trang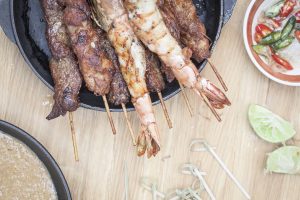 (Image courtesy from Nha Trang)
 Nha Trang is a restaurant that is proud to prepare its authentic Vietnamese food with prime ingredients. Within the 15 years of their culinary experience, they managed to open up 7 shops, a mirror on how loved they are by the locals! The essential ingredients that truly make up the authentic taste are imported directly from Vietnam, to truly bring the taste of the country directly to your plate. Nha Trang has a huge range of traditional Vietnamese dishes. Their menu goes on for pages and pages of dishes to choose from, including salads, rolls, seafood, skewers, curries, noodles, rice, and of course you can't forget the good old pho. This is definitely a place if you want to discover how diverse Vietnamese cuisine can be.
Pictured above is their Grilled Lemongrass Chicken, Beef, and Prawn Skewers. You really can't talk about Vietnamese street food without discussing some delicious skewers, and their's are one of the best. The lemongrass flavour is prominent but still leaves enough room for the protein to be the main hero of the dish. The chicken is juicy and tender, the beef is super flavourful and the shrimp is super fresh, you can hear yourself bite into it, really.
Another must-have dish, Banh Xeo, is essentially a rice flour and coconut milk pancake filled with sautéed shrimp, pork, bean sprouts, onion, and bung beans. The crepe is delicious and crispy, which complements the taste of the filling really well. This dish is one of the 'rare' Vietnamese dishes, not offered by many Vietnamese restaurants, so make sure you try it!
Nha Trang
Address: 
1 Matheson Street
Causeway Bay, Hong Kong
Opening Hours: 
Mon-Thu: 11.30AM – 10.30PM
Fri-Sun: 11.30AM – 04.45PM | 05.45PM – 10.30PM
Closest MTR: 
Causeway Bay
10. Soo Viet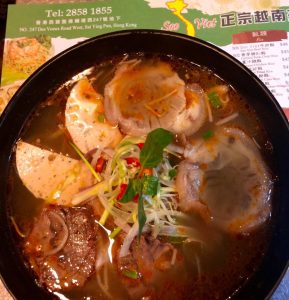 (Image courtesy from Soo Viet)
 Soo Viet is a Vietnamese restaurant famous for its Bun Bo Hue. Originally, you had to pre-order this dish to give the restaurant enough time to prepare the stock and hand-pick the right ingredients. But due to the high demand, they now prepare enough ingredients for this dish to be on offer all the time.
When the Bun Bo Hue came, it was so appetising with its dark red broth made from boiling down beef bones with lemongrass, baby bird eye chillies and fermented shrimp paste. This makes the soup extremely aromatic from the moment that it was set down my the table. Compared to pho, it is a lot more sour and spicy, and the noodles are much firmer and chewier, which I personally love! It is topped with a lot traditional ingredients typically found in Vietnamese soups, including beef, coriander, fresh onions, shallots, sausages, and lemongrass. One of the special ingredients that can be found in this bowl is a shredded purple banana blossom that is authentic from Vietnam and imported directly.
Soo Viet
Address: 
247 Des Voeux Road West
Sai Ying Pun, Hong Kong
Opening Hours: 
Mon-Sat: 11.00AM – 10.30PM
Closest MTR: 
Sai Ying Pun