Breakfast is the most important meal of the day, but since we are all so tired and even busy, it is not unusual for us to miss it. But that's okay, we can always have a late breakfast, or brunch. Brunch itself is a mash up between two words, breakfast and lunch. It is the meal you take when it is too late to have breakfast, but is too soon to have lunch. The dishes served in this period are also somewhere in the middle of the two, and certainly delicious.
There are so many options when it comes to brunch, which is why we are determined to make it easier for you by recommending these brunch places we know and love!
     1. Sevva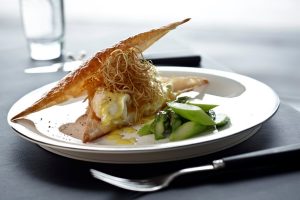 (Image courtesy from Sevva)
Sevva is a restaurant located at the top of Prince's Building, viewing the harbour and the city skyline, a perfect place to just sit down and enjoy your time dining in relaxation. They don't serve the brunch menu everyday, but that just makes the meal so much more special!
The brunch menu here in Sevva has a specialty dish with eggs and truffle as the hero. Not only that, they also have a lot of signature dishes that taste just as good, such as their dosa, green soup, and minced chicken.
They don't stop at the savoury brunch, they also prepare a wide variety of sweet dishes for people who have a sweet tooth, one of the most famous being their Crunch Cake, made out of a soft and fluffy vanilla chiffon sponge cake topped with cream and honeycombs. Another classic and my favourite sweet treat is their Milles Feuilles. Make sure you try it out!
Sevva
Address:
10 Chater Road
Central, Hong Kong
Opening Hours: 
Mon-Fri: 12.00PM – 02.00AM
Sat: 11.00AM – 12.00AM
Closest MTR: 
Central
     2. Madame Fu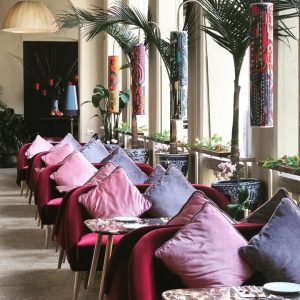 (Image courtesy from Madame Fu)
Madame Fu is a restaurant that is able to stand out against its competitors from its unique setting alone: the space is inspired by European grand cafes. Madam Fu has seven exquisite and unique rooms, each having its own distinct look and feel, giving each space its own identity. But that is not all there is to Madame Fu, as it also gives a new twist to the traditional Chinese cuisine.
From the rustic feel of the first room, the feminine blush and pink room, to the cozy outdoor setting, you wouldn't even guess that all of these are in the same cafe. This is definitely a cafe to go to if you are in need of an insta-worthy picture.
They serve a wide variety of menus, from dim sum that are available for brunch and lunch, a dinner menu, and finally weekend brunch. It is definitely a place I consider going to if I'm having a late morning.
Whether you have visiting guests, a cute date, or just want to treat yourself, Madame Fu might be the perfect place to go, the place where the east and the west meet.
Madame Fu
Address:
3/F, 10 Hollywood Road
Central, Hong Kong
Opening Hours: 
Mon-Sun: 11.00AM – 12.00AM
Closest MTR: 
Central
     3. Felix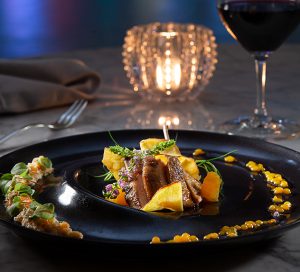 (Image courtesy from Felix)
Felix is a restaurant that is located in the Peninsula Hotel in Hong Kong. It is a western fine dining restaurant that is the perfect place for important meetings and fancy dates.
Every Sunday, however, they offer a special menu, which is their brunch menu. It is a semi-buffet style that runs from 11.30 AM to 3.30PM, and the last order an hour before that.
There are plenty of stations that the guests can choose from. The main course has a wide selection of dishes, from seafood to seasonal main course selections and even a healthy option. They even offer a delectable dessert for you to finish off your meal with. Their brunch menu will set you back for around HK$898 for an adult and HK$638 for a child. But for the quality that they offer, it is definitely money well spent in my opinion.
Felix
Address:
28/F, The Peninsula
Tsim Sha Tsui, Hong Kong
Opening Hours: 
Mon-Sat: 05.30PM – 01.30AM
Sun: 11.30AM – 03.30PM | 05.30PM – 01.30AM
Closest MTR: 
Central
     4. The Envoy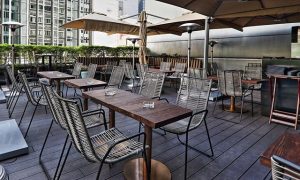 (Image courtesy from The Envoy)
The Envoy is a restaurant and bar located within a boutique hotel on Pottinger Street. It picks up a British colonial theme, serving a modern take on the British influence on South Asia cuisines.
The interior of the restaurant is nice with dark walls and flooring, and a lighter pattern colouring the walls. The room is lit by a chandelier, giving the light a pretty pattern as it lights the room.
Though the outdoor seating is much more simple, it is still a popular option especially during dinner hours. The outdoor seating will enable the guests to stargaze as they enjoy their dinner, making the scene feel so much more romantic. Even for brunch, I always ask for a table outside if possible.
They offer a weekend brunch menu, it is an all you can eat menu that will cost you HK$350. It includes a lot of premium ingredients, you will definitely get your money's worth!
The Envoy
Address:
3/F, The Pottinger, 74 Queen's Road Central
Central, Hong Kong
Opening Hours: 
Sun-Thu: 12.00PM – 01.00AM
Fri-Sat: 12.00PM – 02.00AM
Closest MTR: 
Sheung Wan
    5. Piqniq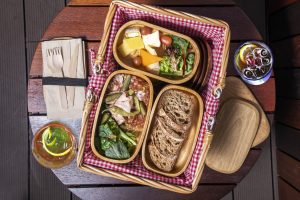 (Image courtesy from Piqniq)
Piqniq is a dining terrace that is fun and free spirited during the day, turning into a perfect spot for a vibrant stargazing experience at night.
Their spot is very lively and colourful, giving it a fun vibe, a perfect spot to end your day chatting and celebrating your special day with your loved ones. Located in the middle of the city, you can watch the city skyline as you enjoy the beautiful food they serve you.
Their food comes within a cute picnic basket, you definitely can't help but take a picture of it. They offer two kinds of baskets, one where you can pick 3 items, costing you HK$198, or the 6 item one that'll cost you HK$388.
Piqniq
Address:
2/F, Workshop 9-14, Decca Industrial Centre, 12 Kut Shing Street
Chai Wan, Hong Kong
Opening Hours: 
Sun-Thu: 11.00AM – 12.00AM
Fri-Sat: 11.00AM – 04.00AM
Closest MTR: 
Chai Wan
     6. Lily & Bloom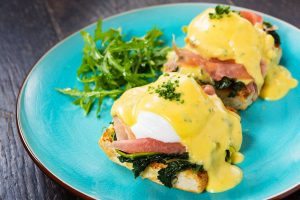 (Image courtesy from Lily & Bloom)
Lily and Bloom offers a spectacular weekend brunch, which is definitely enough to impress the whole guest list! Their brunch menu is a buffet style, consisting of plenty of freshly-made savoury dishes, fresh seafood, and cheese.
One my favourite dishes in their brunch menu is the BLT Avocado toast. It is served with a light and fluffy brioche, topped with a mash of fresh, buttery avocado with a kick of jalapeno, sprinkles of lime juice, juicy cherry tomatoes and crisp and smokey bacon.
When talking about breakfast or brunch, you obviously can't forget about eggs. That is why Lily and Bloom serves five kinds of eggs, including a Japanese egg, American, duck, pigeon eggs and much more!
Worry not if you are bringing your small children to brunch, as they have a small kids table where they can decorate cupcakes and a chocolate fountain to dip their cut fruit. The only thing you should be worried about is the sugar rush that might come after!
Lily & Bloom
Address:
5/F, LKF Tower, 33 Wyndham Street
Central, Hong Kong
Opening Hours: 
Mon-Thu: 12.00PM – 03.00PM | 06.00PM – 11.00PM
Fri-Sat: 12.00PM – 03.00PM | 06.00PM – 02.00AM
Sun: 11.00AM – 04.00PM | 06.00PM – 11.00PM
Closest MTR: 
Central
     7. Estiatorio Keia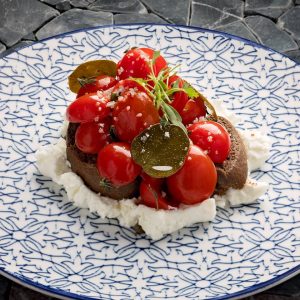 (Image courtesy from Estiatorio Keia)
Estiatorio KEIA is a Modern Greek dining destination, capturing the rich culinary culture of the Mediterranean region. Diners can look forward to fresh premium seafood and traditional Greek specialties.
The restaurant has an elegant contemporary interior with light and airy atmosphere and floor-to-ceiling views over Central, Hong Kong, referencing classic Greek architecture and art. Intricate murals and Greek mosaics of ocean motifs and sea creatures adorn the walls, reflecting the restaurant's emphasis on fresh seafood.
Estiatorio KEIA serves lots of seafood, prepared in deliciously unfussy Greek style. Each dish is bright, fresh and bursting with flavour. What I love the most is that simplicity is key here, so ingredients are given the chance to shine without being overpowered by heavy sauces and unnecessary additions. There's also a great selection of drinks on offer.
Every Sunday, this restaurant offers a brunch menu where guests can taste a variety of seasonal dishes with an authentic Greek and Mediterranean twist. There are a wide selection of dishes such as oven-roasted half chicken, grilled sea bass and seafood bucatini with bottarga. A marvel!
Estiatorio Keia
Address:
2/F, 80 Queen's Road Central
Central, Hong Kong
Opening Hours: 
Mon-Thu: 12.00PM – 01.00AM
Fri-Sat: 12.00PM – 02.00AM
Sun: 12.00PM – 11.00PM
Closest MTR: 
Central
     8. Maison Es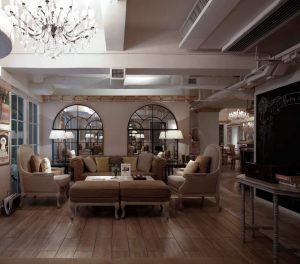 (Image courtesy from Maison Es)
A French restaurant in the heart of Hong Kong. There is no better way than that to express the city's multi-cultural facet that contributes so much to its charm and attractiveness. That being said, chef Esther Sham never forgets her Hong Kong roots, which you can grasp through the food and atmosphere. 
The menu and dishes are quite varied so I am never worried about not finding something to eat. Esther Sham, also called Chef Tata, curated very single dish herself, using her many years of experience in the industry. The prices are on the high side, but that stems from the quality, richness, and attention that Chef Tata brings to your plate. And of course, a French restaurant isn't a French restaurant without an extensive wine list, which Maison Es certainly has! 
Another great thing about Maison Es is that they can host different events, such as a wedding, ensuring it is memorable.
Maison Es
Address:
No.1A Star Street (entrance on Electric Street)
Admiralty, Hong Kong
Opening Hours:
Mon-Thu: 12.00PM – 02.30PM | 05.00PM – 10.30PM
Fri: 12.00PM – 11.00PM
Sat: 11.30PM – 10.30PM
Sun: 11.30PM – 05.30PM

Closest MTR:
Wan Chai
    9. Mrs. Pound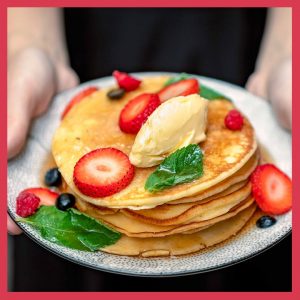 (Image courtesy from Mrs Pound)
Mrs. Pound is a speakeasy-style restaurant and bar that hides behind a fake stamp shop façade. The eponymous (and fictitious) character of Mrs Pound is described in the restaurant's marketing literature as "a famous burlesque dancer with a lustrous career" who is "better known now as a glamorous world traveller" who is "often seen jet setting around the globe with her new beau Lee Sai Wah".
Offering Asian fusion cuisine with a modern twist, the 45 seat venue is comprised of a lower dining room (Mrs. Pound's), an upper dining room (Mr. Ming's) and a bar at which these two spaces merge. Mrs. Pound's features fuchsia leather seating and banquettes with plush velvet backrests, teamed with patterned vintage tiles in pink, suspended mirrored marquee lights with lipstick messages and a 1960's style decorative installation represent showgirl glamour, whilst deep emerald green bar stools and leather seating, patterned tiles in green, diagonal concrete formwork wall panels, combined with low level lighting and neon artwork create a moody and mysterious atmosphere, representing the stereotypical 'masculine' contrast to the narrative of the space.
The place is hipster, but lovably so. Mrs. Pound manages to make its relatively small space feel cosy rather than constrained.The atmosphere is probably too informal for a serious client meeting, but it's a nice spot to relax with a cocktail and some innovative dishes after hours.
Mrs. Pound offers a brunch menu for the guests, but unlike most other brunch places, this isn't an all-you-can-eat menu, though, they do have a free-flow drinks and more importantly, a build-your-own bloody mary station! The fact that they don't offer an all-you-can-eat option is great, in my opinion, you don't feel the pressure to make your money's worth so you don't feel bloated and heavy early in the day!
Mrs. Pound
Address:
6 Pound Lane
Sheung, Hong Kong
Opening Hours: 
Mon-Fri: 12.00PM – 03.00PM | 05.00PM – 12.00AM
Sat-Sun: 12.00PM – 04.00PM | 05.00PM – 12.00AM
Closest MTR: 
Sheung Wan
     10. Chinese Library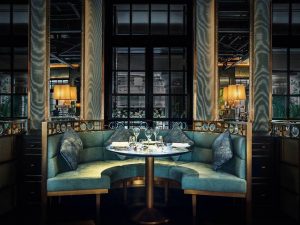 (Image courtesy from The Chinese Library)
The Chinese Library respects the diversity of regional Chinese fare with dishes spanning from Cantonese cooking to Sichuan and Shanghai's culinary traditions. Given the east-meets-west heritage of its site, don't be surprised if you find influences from other countries, as demonstrated by the incorporation of Iberico pork and black truffle in certain dishes.
The restaurant opens for lunch at 12 to 3pm and for dinner at 6 to 10.30pm. All three venues have an air of The Pawn or 1881 Heritage about them, with the now-rare gentility of colonial-style verandas, shuttered windows and strapping white columns.
On the inside, soothing jade green accents the rich fabrics, in addition to the delicate lighting features and elegant carpeting that decorate the restaurant. With central tables down the middle, the best spots line the balconies on either side, especially those with views of the central plaza below. The service is flawless and subtle, completing the well-executed food.
The Chinese Library
Address:
Block 01, Tai Kwun, Police Headquarters, 10 Hollywood Road
Central, Hong Kong
Opening Hours:
Mon-Sun: 12.00PM – 03.00PM | 06.00PM – 10.30PM
Closest MTR:
Central
SEE POST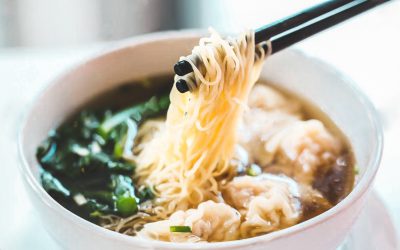 Wonton noodle is a traditional cantonese dish that consists of noodles and dumplings with broth as its soup. It has been well loved by the Chinese for...
SEE POST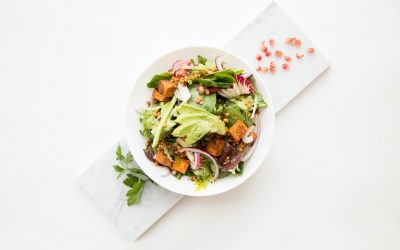 Vegetables and healthy food in general tend to have a rather bad stereotype for people, being bland and boring, even tasteless. When I was a...