When you think of Hong Kong, one of the first things that will pop up in your head is its tea houses. It is a famous tourist activity to come to a tea house and experience a tea making class, which is why tea houses are scattered all around Hong Kong and have become increasingly popular.
Whether it's appreciating culture or just wanting to relax with a cup of tea in the afternoon, we have chosen ten of the best tea houses that you can visit for any occasion!
1. Luk Yu Tea House & Restaurant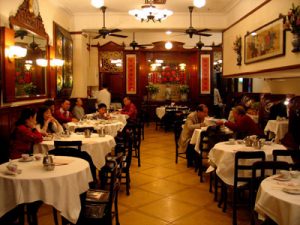 (Image courtesy from Luk Yu)
Luk Yu is one of the oldest and most authentic tea houses in Hong Kong. Starting in 1933, this tea house has grown and has become a more luxurious place.
Though the interior is quite heavily influenced by the olden Chinese style, it is modelled during the French concession era, which gives it a little touch of French making it such an interesting combination of the two.
One of their specialty teas is the Pu-erh tea. It is special because they use aged Pu-erh tea leaves, giving the tea a strong earthy smell and a slightly bitter aftertaste. The leaves are specially gathered from Yunnan, and no leaves younger than 15 years are used. These aged tea leaves are then blended by the tea masters of Luk Yu.
They also serve dim sum, a perfect and my favourite companion for the traditional Chinese tea. One of the best dim sum dishes they offer is their steamed beef balls. The beef is soft and juicy, with a distinct taste of tangerine peels here and there.
Luk Yu Tea House
Address:
24-26 Stanley Street
Central, Hong Kong
Opening Hours:
Mon-Sun: 07.00AM – 10.00PM
Closest MTR:
Central
2. Heritage Tea House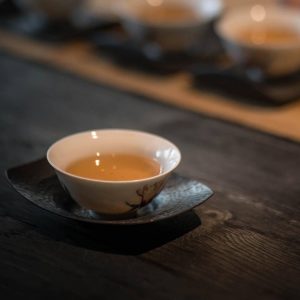 (Image courtesy from Heritage Tea House)
Decorated with a classic wooden interior, Heritage Tea House is the perfect place to relax over a good read and a hot cup of tea. The emphasis at Heritage Tea House is on serving tea as its most origin and pure form. Located at the Jockey Club Creative Arts Centre (JCCC) in Shek Kip Mei, the tea house also offers dim sum, side dishes, soup noodles, and sweets.
Open daily from 11am to 8pm, the tea house offers not only traditional Chinese tea, but also modern teas, which you can enjoy together with the side dishes. You can also buy teacups, teapots and nicely packaged teas in here.
The tea house is a great place to read books and enjoy art, as they have a great collection of books placed on the bookshelves and various paintings hanging on the wall. Customers are ensured to have a good time while enjoying a good cup of tea.
Heritage Tea House
Address:
30 Pak Tin Street, Jockey Club Creative Arts Centre, L1-06
Shek Kip Mei, Hong Kong
Operating Days & Hours:
Mon-Sun: 11.00AM – 08.00PM
Closest MTR:
Shek Kip Mei
3. Lock Cha Tea House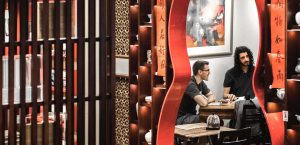 (Image courtesy from Lock Cha)
LockCha is a traditional canton-style tea house that offers a traditional tea drinking experience. LockCha prides itself as one of the very few tea houses that uses the finest unblended, pure, single-harvest, estate teas sourced from local farmers since its retail shop was founded back in 1991.
Hundreds of teas are available to pair with their vegetarian dim sum for lunch and dinner, and if you are looking for a one-of-a-kind experience, the tea house is the perfect place to be. As a result of its commitment to educate and promote Chinese tea and art, it is combined with an art gallery and hosts periodic exhibitions and tea classes throughout the year.
Paying a visit to LockCha will bring you a truly unforgettable journey that combines art, culture, and heritage. Besides situating all of their locations within cultural and heritage sites of Hong Kong, the tea house regularly hosts art and music events for the customers to connect with local artists and musicians. Making tea as its core, the tea house also runs private tea appreciation classes all year-round (booking required). If you're short for time, you can still receive a brewing demonstration for a small fee when you order your tea.
LockCha
Address:
G/F, The K.S. Lo Gallery, 10 Cotton Tree Drive
Admiralty, Hong Kong
Opening Hours:
Mon-Sun: 10.00AM – 08.00PM
Closest MTR:
Admiralty
4. Ming Cha Tea House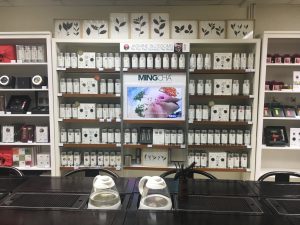 (Image courtesy from Ming Cha)
Founded in 1999, Ming Cha is an award-winning brand for premium Chinese tea. Under the leadership of Vivian Mak, an artist and designer turned entrepreneur, Ming Cha has a wonderful selection of authentic teas, presented in eco-friendly and sophisticated packaging with clear and slick information.
Operating from 10am to 7pm everyday (closes on Sundays and public holidays), MingCha aims to create an environment for people to understand the real taste of teas from different angles. The brand works with tea farms throughout China to source traditionally-grown tea leaves of the highest quality, such as the award-winning Menghai Tippy Puer.
By combining premium quality with innovative packaging, Ming Cha conducts interactive tea tasting workshops to let the teas speak for themselves. And don't worry if you come with your whole family, because the tea brewing and tasting workshop is also suitable for kids as they use teas that are sourced from traditional farms in different parts of China. Everything about this place made me feel connected to Chinese culture, all through tea. 
Ming Cha Tea House
Address:
9/F, Cheung Tat Centre, Room 901-902, 18 Cheung Lee St
Chai Wan, Hong Kong
Opening Hours:
Mon-Sat: 10.00AM – 07.00PM
Closest MTR:
Chai Wan
5. Lin Heung Tea House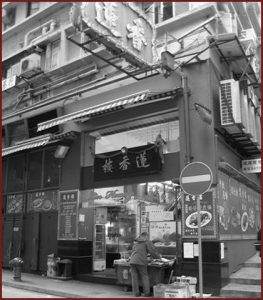 (Image courtesy of Lin Heung)
Known for its frenetic atmosphere, Lin Heung Tea House is a traditional dim sum restaurant that offers one of the most memorable dining experiences in Hong Kong. Customers are expected to find their own tables and get dim sums from the roaming pushcarts. If you do not speak Cantonese (or at least pu tong hua), and have no understanding of the dim sum trolley culture – good luck.
Unlike most modern Chinese restaurants, Lin Heung does not serve a wide variety of dim sum, but has traditional dishes that are hard to find elsewhere, such as quail eggs or pork liver siu mai, and steamed Chinese sausage rolls. All of the dim sum are rolled out piping hot on trolleys. Instead of serving tea in pots, customers are given their own cups, which waiters top up with boiling water as soon they have been drained.
Besides dim sum, Lin Heung is also known for its pork lung soup, traditional Chinese pastries, and signature eight-treasure duck, which is stuffed with eight different ingredients – including lotus seeds, peanuts and Chinese sausage – then braised until the meat is soft and succulent.
Given how difficult it is to find a seat, Lin Heung Tea House is not the best place for big groups during lunch hours. Customers often find themselves sharing a table with other customers. The chaos is overwhelming for anyone used to more orderly restaurants, but for many customers, it is exactly what they are here for. This is the place if you want to fully experience traditional dim sum culture, which I loved.
Lin Heung Tea House
Address:
162 Wellington Street
Sheung Wan, Hong Kong
Opening Hours:
Mon-Sun: 06.00AM – 05.00PM
Closest MTR:
Sheung Wan
6. Teakha Garden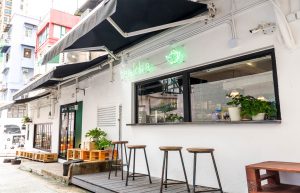 (Image courtesy from Teakha)
Focusing on offering the tea experience from all around the world, Teakha is a quaint café for the tea aficionados. From the cold brew high mountain oolong to keemun milk tea with red date honey, there is much to offer at Teakha.
Located in the hipster neighbourhood on Tai Ping Shan Street in Sheung Wan, Teakha is found upslope in the quieter parts of the area. With a selection of over 19 different tea brews on its menu, Teakha's tealeaves are sourced from plantations all over the world like Japan, China, Taiwan, and Sri Lanka. They also have an on-site bakery that prepares the cakes they serve.
The café is spread out across 3 shop spaces. The main café houses the kitchen, the retail space for plantation is right next-door and their bakery is right at the other end. Seating is spread out across all 3 sections and the cozy spaces are charmingly decorated with wooden furniture, Tiffany-blue walls and vintage teapots. Teakha is a perfect spot if you are looking for a nice place to relax and read a book on a lazy afternoon in a cosy setting.
TeaKha
Address:
18B, Tai Ping Shan Street
Sheung Wan,Hong Kong
Opening Hours:
Mon,Wed-Fri: 09.00AM – 06.00PM
Sat-Sun: 08.30AM – 07.00PM
Closest MTR:
Sheung Wan
7. Choi Lung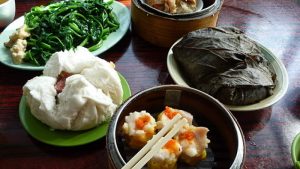 (Image courtesy from Choi Lung)
Located in the mid-level of Tai Mo Shan, the highest mountain of Hong Kong, Choi Lung Tea House is widely known for its Chinese tea brews with shan shui, or fresh mountain water. The shan shui comes from the streams of Tai Mo Shan; probably the only place in Hong Kong where it is safe to use natural water for tea.
Opening every day from 5.30am to 3pm, it's a perfect choice to fill your belly before starting the day. However, expect no greeting but plenty of table sharing. Everything in this lovely dim sum hideout is a DIY (Do It Yourself). Pick up your dim sum from the kitchen, make your own shan shui tea, and plonk yourself down on a plastic stool.
Sometimes, customers also have to order dish manually by shouting out loud to the waiter and the cook will steam it right away. Grown in farmyards nearby the teahouse, it is much fresher, and hence tastes different than those you could eat elsewhere.
Choi Lung
Address:
荃錦公路川龍村27號
Tsuen Wan, Hong Kong
Opening Hours:
Mon-Thu: 05.30AM – 03.00PM
Closest MTR
Tsuen Wan
8. Yu Tea House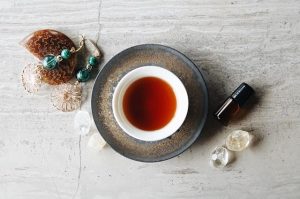 (Image courtesy from Yu Tea House)
Located within a modern, minimalist setting in Fo Tan, Yu Tea House is the place to be if you are looking for a classic yet contemporary tea drinking experience. Inspired by its name that translates into fine jade, Yu curates the finest Chinese tea leaves with selections of green, white, oolong, black, puerh, and Darjeeling tea.
Open daily from 10am to 10pm, Yu Tea House offers a small, yet comfortable space with a great service. This tea house is very spacious with a novel style, and it has a large sea view. It is different from the other usual tea houses.
There are dozens of tea choices on the menu. In addition to the menu on paper, the tea house carefully prepares different vials so that customers could try their tea without smelling it. This is a good spot to hit if you are looking for Hong Kong tea houses in the New Territories.
Yu Tea House
Address:
L230, 2/F, The Eslite Spectrum,
Star Annex, Star House, 3 Salisbury Road,
Tsim Sha Tsui, Kowloon, Hong Kong
Opening Hours:
Mon-Sun: 10.00AM – 10.00PM
Closest MTR:
East Tsim Sha Tsui
9. Tea Saloon by Another Fine Day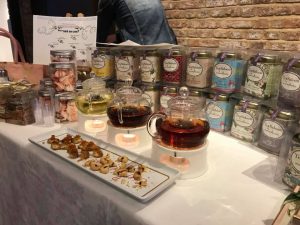 (Image courtesy of Tea Saloon)
Decorated in pink and purple, completed with chandeliers and Victorian era style furniture, Tea Saloon by Another Fine Day is any girly girl's heaven. Inspired by a luxurious English cottage, it offers slow but friendly service with a good selection of food and beverages on the afternoon tea menu.
When you enter the quaint cafe – via a neatly manicured private garden and patio – you're met with an array of old-fashioned floral-upholstered sofas, rickety wooden chairs and old bookcases stacked with fancy books and vintage tableware. The eclectic room provides plenty of fodder for sneaking in the perfect Instagram shot, from the colourful candy-filled vases to the old-style chandeliers.
Naturally, the seasonally changing afternoon tea is the specialty on the menu: choose from the Ladies (more sweets) or the Gentleman's (more savoury) set – each arriving with a set of vintage-style floral crockery on an Indian handmade tiered cake stand. The scrumptious afternoon tea includes croissant sandwiches filled with folds of ham and cheese, mini sliders, crab puffs and forest mushroom tarts wrapped in layers of flaky pastry. The treats go down well with a soothing cup of tea, selected from the cafe's collection of premium teas sourced from around the world.
Tea Saloon by AnotherFineDay
Address:
G/F, 80-82 Peel Street
Mid-levels, Hong Kong
Opening Hours:
Tue-Sat: 12.00PM – 07.00PM
Sun: 11.00AM – 07.00PM
Closest MTR:
Central