Wonton noodle is a traditional cantonese dish that consists of noodles and dumplings with broth as its soup. It has been well loved by the Chinese for centuries. Now, it is one of the comfort foods for Hong Kong's inhabitants. With so many international restaurants and food around, it's nice to go back to our roots and savour some comfort food after eating so many foreign dishes.
There are so many wonton soup shop here, in Hong Kong, which might make it a bit hard to choose which one is the best. Which is why we have curated ten of the best wonton food shops for you to try! 
1. Mak Noodle
(Image courtesy from Mak Noodle)
Mak's Noodle get its name from the owner of the restaurant, Mak Woon Chi. Mak was so famous, that he even served Chiang Kai-shek (former president of the Republic of China). During World War II, Mak moved to Hong Kong and opened his first restaurant as a dai pai dong (food stall). Now, it has become a major restaurant chain in multiple locations in several countries that even has one Michelin Star.
This restaurant has a pretty wide window of time for its operational hours. Serving from 11am to 9pm daily, Mak's Noodle is a great option to stop by if you want to grab a portion of noodle soup at almost any time of the day. Especially with its branches spread across throughout the city, you can find one anywhere.
Because there are so many locations of Mak's Noodle, the restaurant has lost a bit of its exclusive feeling. But there is no doubt Mak's cooking skill is still as good as before, and how he passes it through generations in inspiring.
The restaurant specializes in wonton noodles, which are extremely delicious. The noodles are very al dente, even almost to the point of being "crunchy", but in a pleasant way. And the wonton is very meaty, even though it's not the biggest wonton you'll have, the filling is so firm, they definitely didn't skimp out on the meat. The soup itself is definitely my favourite part of the dish, it has an alkaline but still clean taste. And it doesn't cost much! A bowl with two medium-sized wontons only costs HK$40. No wonder it got a Michelin Star on its name!
Mak Noodle
Address:
77 Wellington Street
Central, Hong Kong
Opening Hours: 
Sun-Thu: 06.30AM – 11.00PM
Fri-Sat: 06.30AM – 12.00AM
Nearest MTR: 
Central
2. Ho Hung Kee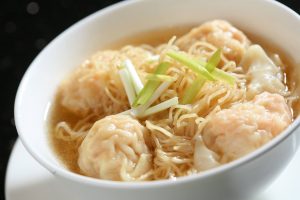 (Image courtesy from Ho Hung Kee)
The restaurant itself was originated from one of the "four well-known wonton noodles" families that emerged after the second World War. Operating since 1946, Ho Hung Kee is famous for its wonton noodle soup with its one Michelin Star it obtained in 2012.
The place is mostly white and bright, with teal coloured whimsical lanterns and booths. The colours and ambience of the restaurant make it seem a little bit more like a cafe or a dessert bar than a wonton noodles shop. Customers can also watch the chefs prepare each bowl of wonton noodle soup at the back. Operating daily from 11.30am to 11pm, it is way more fun to come with a large group and share a bunch of dishes. What I appreciate is that the menu has photos to help customers, especially foreigners who might not know what to have.
The restaurant's specialty is the wonton noodle soup. Customers can choose the size of the menu based on the wonton quantities (four for HK$39 and six for HK$56). The noodles are perfectly cooked, still a little bit chewy but still maintain a softness noodles should have. The broth itself has that familiar classic flavour, with a deep and dense taste, making you all warm and fuzzy inside. Also, the wontons are very juicy and flavourful. It is one of my places of choice whenever I'm looking for a classic Cantonese restaurant during the day.
Ho Hung Kee
Address:
12/F, 500 Hennessy Road
Causeway Bay, Hong Kong
Opening Hours:
Mon-Sun: 11.30AM – 11.00PM
Nearest MTR: 
Causeway Bay
3. Tasty Congee & Noodle Wantun Shop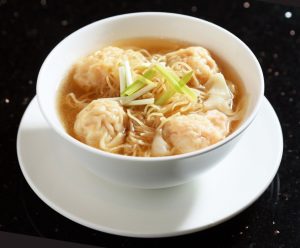 (Image courtesy from Tasty Congee & Noodle Wantun Shop)
Being one of the famous four well-known wonton noodle families, Mr. Ho Chiu Hung established his Wantun Noodles Shop in 1946 after World War II, becoming one of the busiest restaurants on one of the busiest streets in Hong Kong.
Operating daily from 11.00am to 11pm, Tasty Congee & Noodle Wantun Shop also serves dim sum besides its signature wonton noodle soup dish that made this restaurant obtain its Michelin Star in 2009. Note that this restaurant gets super busy and crowded, you might get a shared table with other customers. But worry not, for it provides customers with a very fast yet attentive service. One more thing, this place doesn't take bookings, so be prepared to line up and wait. I always try to be there by 12pm sharp.
Mr. Ho really knows how to make a perfect bowl of noodle soup. The noodles are all al dente and really make up perfect combination with the juicy wonton. The flavoured broth served here is one of a kind since it's a fish soup, unlike any other restaurants which usually serve chicken or vegetable broth. The portion is quite small and a lil' bit pricey but still delicious in my book.
Tasty Congee & Noodle Wantun Shop
Address:
Shop 1080-82, Level One, Elements, 1 Austin Road West
Kowloon, Hong Kong
Opening Hours:
Mon-Sun: 11.00AM – 11.00PM
Nearest MTR:
Austin
4. Tsim Chai Kee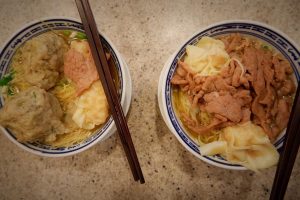 (Image courtesy from Tsim Chai Kee Fan Page)
Tsim Chai Kee is located right across Mak's Noodle, the other restaurant we've curated in the list. This restaurant is one of the recommended restaurants by the Michelin Guide in 2010. Along with their popularity, their crowd grew, so it is quite packed, especially if you come during rush hour.
Tsin Chai Kee is famous for their delicious and budget friendly wonton noodles, costing an affordable HK$16 a bowl. If you are feeling a bit fancier, you can order the two toppings bowl for HK$24, and the three toppings for HK$34 which is what I usually have.
The three toppings noodles comes as a rather big portion, with a plethora of toppings. There are three toppings to choose from, wontons, fish balls, and sliced beef. Each customer can choose any combination of these toppings, all three, or none at all! The choice is truly yours. Their toppings are pretty big, with the wontons and fish balls sized around a golf ball. The wonton is quite flavourful, with the shrimp being packed into it. The fish ball is greyish in colour, with some shreds of mandarin peel mixed into it, the freshness of the citrus cutting back on the fishiness. The last topping is the shredded beef and it was delectable, the shreds are quite thick, and the texture is so tender. A perfect companion to the noodles.
Tsim Chai Kee
Address:
98 Wellington St
Central, Hong Kong
Opening Hours:
Mon-Sun: 09.00AM – 10.00PM
Nearest MTR: 
Central
5. Chee Kei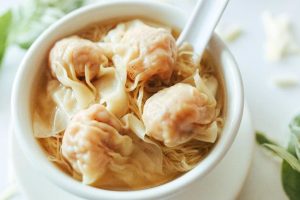 (Image courtesy from Chee Kei)
Chee Kei is a famous Hong Kong wonton noodle shop, opening its doors for the first time in 1994 in Causeway Bay. Now, after years of hard work and millions of wonton noodle bowls, Chee Kei had opened numerous branches across Hong Kong and even overseas, in Singapore and Taipei, and an upcoming branch in Beijing.
Chee Kei is determined to keep the Hong Kong tradition alive by serving  original and authentic Cantonese food.
There are not many choices to choose from when it comes to their wonton noodles, you can choose if you want it with dumplings or wonton. The noodles had a very nice texture, spongy yet soft. Not only that, the noodles were pretty thin, absorbing all the tasty broth it was served with. The broth itself has a very deep flavour with a strong pepper presence, giving this wonton noodles a little kick.
The shrimp in the wonton is so obviously fresh. It was sweet and crisp. You can hear the crunch of the shrimp as you bite down on the wonton. They also serve plenty of these wontons along with the noodles, so you don't have to eat a whole bowl of noodles before savouring one small piece of wonton.
Chee Kei
Address:
52 Lock Road
Tsim Sha Tsui, Hong Kong
Opening Hours:
Mon-Sun: 10.30AM – 12.00AM
Nearest MTR: 
Tsim Sha Tsui
6. Good Hope Noodle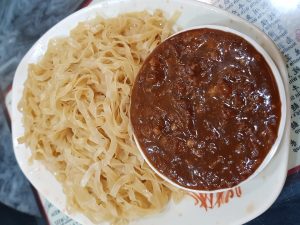 (Image courtesy from Good Hope Noodle Fan Page)
Good Hope Noodle is a noodle spot that has an open kitchen, where the customers can watch the chefs make the noodles from scratch. The open kitchen also allows the mouthwatering smell of their broth to fill the entire restaurant, raising your appetite even more.
The interior of the restaurant is quite spacious, especially when compared to other Hong Kong eateries. With a very simple decor, the place is very homey with just a few pictures of their menus hanging on the wall.
Their specialty dish is the Braised Noodle With Shredded Pork and Special Sauce that costs HK$37. The thicker noodles were nice and chewy, a new texture that sets it apart from most noodle restaurants. Their shredded pork and special sauce were also amazing, complimenting the noodles. Do be careful when adding the sauce, though! I find that it could be quite salty for some people.
Good Hope Noodle
Address:
18 Fa Yuen Street
Mong Kok, Hong Kong
Opening Hours:
Mon-Sat: 11.00AM – 01.00AM
Sun: 11.00AM – 12.00AM
Nearest MTR: 
Yau Ma Tei
7. Mak Man Kee Noodle Shop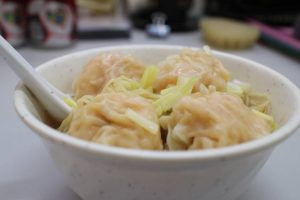 (Image courtesy of Mak Man Kee Noodle Shop)
Mak Man Kee is owned by one of the descendants of the original master of wonton. It is said that they still purchase their flour and are hand-made everyday. The other specialty about their noodle is that it's made with duck eggs.
Their noodles were slightly thicker than the usual wonton noodles, but still thin enough to be able to absorb the flavours of the broth. The noodles are a little chewy due to their thickness. The wontons are so much bigger than many of its competitors. The special thing about their wontons is that they make them purely from prawns, with no mixture of pork whatsoever. The prawns they use are very fresh, giving the wontons a slightly sweet flavour from all of the juices.
In my opinion, it was quite pricey when compared to others. But, don't worry, for they give you a big portion to make up for it!
Mak Man Kee Noodle Shop
Address:
G/F, 51 Parkes Street
Yau Ma Tei, Hong Kong
Opening Hours:
Mon-Sun: 12.00PM – 12.30AM
Nearest MTR: 
Jordan
8. Lung Kee Wonton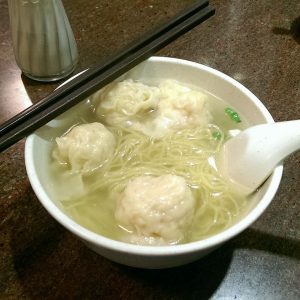 (Image courtesy from Lung Kee Wonton)
Lung Kee Wanton is one of the hidden gems in terms of wonton noodles. Situated in a small restaurant on the street, it is easy to miss, especially when there is a parked car covering it. So you must keep your eyes pasted to make sure you don't pass it!
As it is quite a small restaurant, the seating is understandably limited. Therefore because of this, you should be prepared to share tables with others when it is crowded in the restaurant.
Their wontons are quite big, though the noodles were a little small in portion. Their wontons are great because of their slippery and thin shell, the prawn filling is nice and succulent, the juices explode in your mouth as you bite into it. The texture of the noodles is bouncy, swimming in a delicious umami clear broth.
Lung Kee Wanton is definitely one of the places I do not regret taking a detour for!
Lung Kee Wonton
Address:
Lee Wai Commercial Building, 1-3 Hart Avenue
Tsim Sha Tsui, Hong Kong
Opening Hours:
Mon-Sat: 09.00AM – 08.30PM
Nearest MTR: 
Tsim Sha Tsui
9. Mak Siu Kee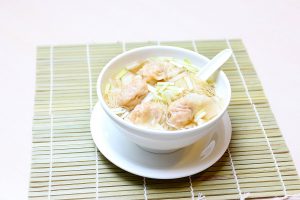 (Image courtesy from Mak Siu Kee)
The famous Mak's Noodles at Wellington Central is run by the grandson Chi-Ming. The founder's eldest son opened Chung Kee Noodles, Mak An Kee at Wing Kut Street is held by another grandson Mak Chi-Chung, while Mak Siu Kee is operated by a granddaughter. However, Mak Siu Kee sticks to the most original family recipe until the very end.
Mak Siu Kee operates within a pretty wide period of open hours in a day. Starting from 11am to 11.45pm, the restaurant gets pretty busy often, especially during rush hours. Customers will have to share a table sometimes.
The prices are on the high side, but the thin and springy silver thread egg noodles with an agreeable slippery texture make it worth every penny. I find the bowl to be a little bit small, but the light soup, simmered in the style of French bouillon is extremely flavoursome, and can be sipped until the very last drop, making this restaurant definitely a worthy pick on our list.
Mak Siu Kee
Address:
3C Lau Li Street
Tin Hau, Hong Kong
Opening Hours:
Mon-Sun: 11.00AM – 11.45PM
Nearest MTR: 
Tin Hau
SEE POST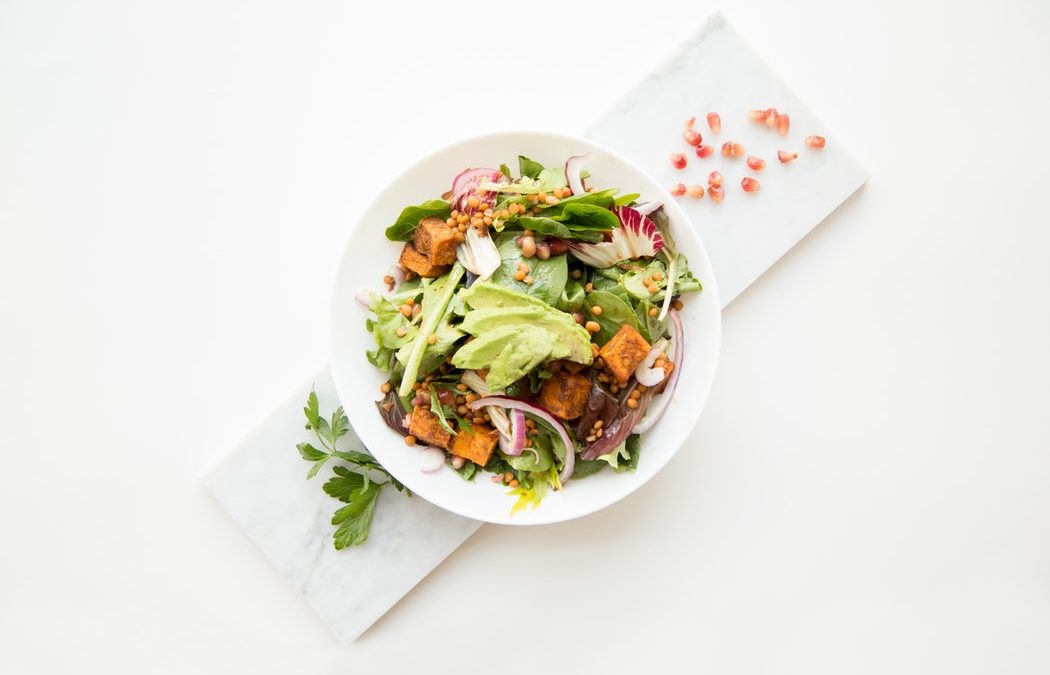 Vegetables and healthy food in general tend to have a rather bad stereotype for people, being bland and boring, even tasteless. When I was a...