Vegetables and healthy food in general tend to have a rather bad stereotype for people, being bland and boring, even tasteless. When I was a kid, I dreaded every mouthful of "greens", and would gently push them to one side of the plate. But growing up, after understanding their benefits and giving them another chance, I have found that vegetables should be part of every meal, for everyone. It is no lie that eating your five-a-day can greatly benefit your health, and it can be done in a very flavourful way. In this guide, I want to take you along to different parts of Hong Kong to some exquisite vegetarian restaurants that have helped me become a fan of eating vegetables. 
Here are 10 of the vegetarian restaurants you need to try before deciding that vegetables and vegetarian food are not your thing:
1. Veda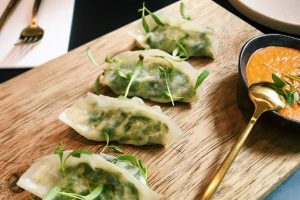 (Image courtesy of Veda)
Veda serves healthy and fresh vegetarian ingredients, prepared with Asian flavours, creating delicious and healthy dishes. Not only that, Veda also offers some vegan or gluten free options. The dishes in this restaurant are mostly made of family sized serving portions, but there are smaller options if you prefer.
The interior of the restaurant looks elegant, with sofa booth seats and dark colours. It is lined with house plants on top of the booths, giving a touch of nature to the place.
Pictured above is one of their winning dishes, Nepalese ricotta and spinach momos with smoked chilli and tomato achaar. This dish is one of my absolute favourites, with the freshness of the veggie momos mixed with the soft ricotta cheese, adding the perfect balance of flavour to the dumplings. The smoked chili and tomato achaar are also mixed deliciously, the balance of sweet tomato and spicy chili is definitely to die for.
Veda
Address: 
2 Arbuthnot Road
Central, Hong Kong
Opening Hours: 
Mon-Sun: 06.30AM – 11.00PM
Closest MTR: 
Central
2. Mana!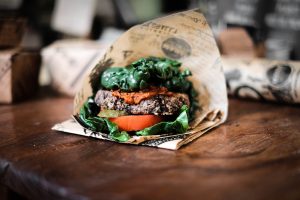 (Image courtesy of Mana!)
Mana is a very unique restaurant, mainly because of its purpose. While most restaurant just focus on delivering great food to their guests, Mana serves for something bigger and better. Mana focuses on making people more aware of the environment and Eat like It Matters. Mana wants to bring to Hong Kong food that doesn't cost the earth.
There are twelve main values and principles which are free water for all, zero food waste, plant based diet, conscious consumption, small eco footprint, eat like it matters, diet change NOT climate change, minimum waste, food that doesn't cost the earth, etc. From these principles, it's clear as day that Mana believes by changing our diet and consumption attitude, we all can change the world, for the better, and save our planet.
There are so many different kinds of plant based food. Each base of Zaatar Flats are made fresh daily. You can choose your favourite out of ten of their signature flats. Or, if nothing strikes your fancy, you can even make your own customised flat with yummy toppings such as zucchini and avocados. I fell in love with this place because of its simplicity, mission, and flavours. This is vegetarian food at its best.
Mana!
Address: 
92 Wellington Street
Central, Hong Kong
Opening Hours: 
Mon-Sun: 10.00AM – 10.00PM
Closest MTR: 
Central
3. Veggie SF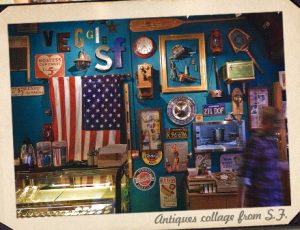 (Image courtesy of Veggie SF)
Veggie SF is a vegan and vegetarian restaurant that is pretty well-known in Hong Kong. One of the biggest reasons for their huge fame is from the food itself. They have a variation of burgers that can match any BBQ place.
The interior itself is pretty hectic, with elements and decorations crowding the whole space. Though this might make the place look slightly smaller, it really gives a rustic and homey feel, customers would feel like they are in a small American diner.  
Not only because of the variety of dishes, the restaurant is always crowded because people just can't get enough of their burgers! The usage of ingredients was incredibly creative and the chef is skilled at combining and playing with flavours, and it shows (and tastes!). Their burgers are full of fresh and great tasting ingredients, and then cooked to perfection, mixed with other complementary ingredients. They have probably the best vegetarian/vegan burgers I've ever had. 
Veggie SF
Address: 
10/F, 11 Stanley Street
Central, Hong Kong
Opening Hours: 
Mon-Sat: 12.00PM – 02.30PM | 06.00PM – 09.00PM
Closest MTR: 
Central
4. Pop Vegan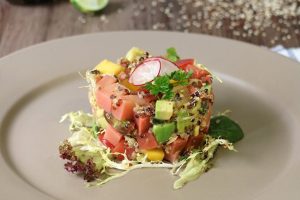 (Image courtesy of POP Vegan)
Being a vegetarian or vegan in Hong Kong isn't all that hard. There are quite a lot of delicious vegan and vegetarian restaurants, especially around the Central area. One of the newest vegan restaurants that just opened up in the area is POP Vegan. Pop Vegan is a nice and trendy vegan restaurant, perfect for a romantic night out or a nice dinner with friends.
The interior of this restaurant is nice and rustic, with a lot of wooden elements and some unpainted walls. The chairs available for customers vary from wooden ones, to cushioned ones. All the colours that are used are quite dark and neutral, making the place look more calm, with a pop of blue here and there, still giving it that fun and edgy look.
Other than the dining area, Pop vegan also has an aisle full of vegan ingredient available for customers to buy. These ingredients include a wide variety of vegan cheeses, condiments, and drinks. So the customers can try and make their own version of the delicious vegan food they have at home.
One of the more interesting foods that they offer is the smoked vegan tuna salad. This salad is made with vegan tuna, made out of konjac, fennel, orange, avocado, and dill salad. This combination truly gives your taste buds a beautiful zesty and fresh salad.
Other than their signature salad, Pop Vegan also offers a variety of entrees, including pizza, steak, risotto, and vegan burgers. They definitely make you want to come back again and again to try every single option they have to offer, and they definitely make me love vegetarian food more and more every time I come.
POP Vegan
Address: 
1/F, 28 Elgin Street
Central, Hong Kong
Opening Hours: 
Mon-Sun: 12.00PM – 11.00PM
Closest MTR: 
Central
5. Grassroot Pantry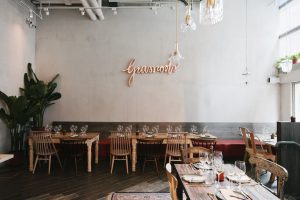 (Image courtesy from Grassroots Pantry)
Grassroot Pantry is a restaurant and workshop that has one very simple philosophy that I am a fan of: to create food that heals. Grassroot Pantry believes it is possible to make healthy and environmentally friendly food that tastes as good as any other food. Similarly, they also think that good food doesn't have to be bad for you. This is why they strive everyday to make their guests realise this and make better food choices for themselves.
The interior of the restaurant is really nice and modern, with a clean and sleek, white dominated design. This place is definitely a place you'd think young people will flock to just to take some pictures. The place is spacious, with seats located only in the corners of the room, giving the guests and waiters a lot of room to walk around.
For the food, you don't need to worry. Grassroot Pantry sources only the best ingredients, with over 90% of their ingredients being certified organic. This is important for the head chef, Peggy Chan, who is determined to promote a healthy and clean food habit.
They offer a wide variety of food, mostly having Asian taste to it: From dumplings, tikka masala, to rendang. They for sure proved to me that vegan food doesn't have to be bland.
Grassroots Pantry
Address: 
108 Hollywood Road
Sheung Wan, Hong Kong
Opening Hours: 
Mon-Fri: 11.30PM – 03.00PM | 05.30PM – 10.45PM
Central, Hong Kong
Closest MTR: 
Sheung Wan
6. Isoya Japanese Restaurant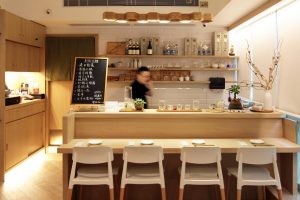 (Image courtesy from South China Morning Post)
Isoya Japanese Restaurant is a small, vegetarian restaurant located in Wan Chai. It serves an exquisite, beautifully plated dinner, making it perfect for a date night. They even have an option to leave out any dairy and egg elements, making it vegan-friendly!
The interior is nice and spacious, with wooden flooring and door curtains that really scream Japanese. There are two kinds of seats available for the customers, a table for six and a bar seating. The place is nice and bright, with a lot of warm toned lights all over the place, making it easy to snap an insta-worthy picture here!
They have a variety of foods to choose from, starting with starters such as sesame tofu, avocado salad, and burdock chips, and the mains such as tempura, curry rice, lime somen, even a variety of sushi.
If you cannot decide on what you want, they have two kinds of set menus. The first one is for lunch which is the Japanese home cooking lunch set that will cost you HK$98, and the seasonal tasting menu for dinner at HK$300. Both are excellent choices. 
Isoya Japanese Restaurant
Address: 
9/F, 83 Wan Chai Road
Wan Chai, Hong Kong
Opening Hours: 
Mon-Sat: 12.00PM – 03.00PM | 06.00PM – 11.00PM
Closest MTR: 
Wan Chai
7. Mirror and Vegan Concept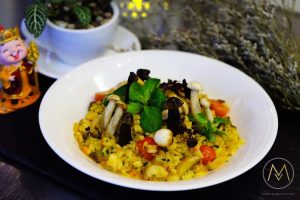 (Image courtesy from Mirror and Vegan Concept)
Mirror & Vegan Concept is an all-vegan western restaurant concentrated around Italian food. With their healthy, meaty-flavor plant-based dishes, you won't notice that you're not eating meat. Their dishes also include non-dairy cheese and cream, natural Yunnan fungus, and seasonal vegetables, so get ready to be amused and amazed by the vegan cooking magic tricks.
Not only does it produce healthy dishes, Mirror & Vegan Concept also considers your healthy eating hours. Operating daily at 11.30am to 4pm and then from 6pm to 9.30pm, they want the customers to have not just a healthy food, but also a healthy lifestyle, and that comes with eating the right food at the right time.
Serving mostly Italian cooking, the vegan pastas are full of rich and comforting textures made with a variety of fresh and healthy ingredients, far from the bland and austere taste you had in your mind as soon as you heard the word "vegan".  Do yourself a favour and go, and as I was, you'll be surprised at how easily you'll fall in love with this lovely vegan restaurant.
Mirror and Vegan Concept
Address: 
9/F, 118 Queen's Road Central
Central, Hong Kong
Opening Hours: 
Mon-Sat: 11.30AM – 04.00PM | 06.00PM – 09.30PM
Closest MTR:
Sheung Wan
8. Lockcha Tea House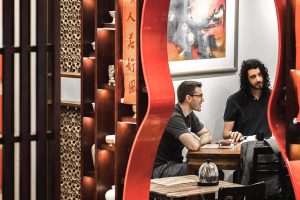 (Image courtesy of Lockcha)
Lockcha is a tea house located in the K.s.Io Gallery, determined on serving delightful Chinese tea for everyone. They have a mission: to search through every nook and cranny of China, even to the remote areas, to find the best tea. They pay full attention to the plantation, environment, climate, even the dedication of the tea farmers, as these are all contributing factors that decide if the tea will turn out delicious, healthy, and authentic, or tasteless and bitter.
Lockcha offers so much more than just a cup of tea. They enable their guests to enjoy Hong Kong's finest art, culture, and heritage, as they often host art and music events in their teahouse, for guests to really get a taste of Hong Kong. Other than that, Lockcha also offers a tea appreciation classes for guests that want to know more about tea making in Hong Kong. Unfortunately, it takes quite some time, but it's definitely on my list of things to do in the near future. If you are short on time, they also offer a small demonstration in front of you when you buy your cup of tea for a small fee, which is very nice nonetheless.
The interior of the teahouse itself is very authentic. With Chinese elements decorating the place to the mix of wooden colors and red, it really makes the space look  much more elegant and fancy. A perfect place to sip my afternoon tea.
Lockcha Tea House
Address: 
The K.s.Io Gallery
Admiralty, Hong Kong
Opening Hours: 
Mon-Sun: 10.00AM – 08.00PM 
Closest MTR:
Admiralty
9. Confusion Plant Based Kitchen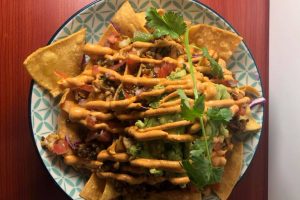 (Image courtesy of Confusion Plant Based Kitchen)
Confusion Plant Based Kitchen is a vegan restaurant that is focused on making both your body and our environment better. They believe that going plant based does not only benefit the environment, but also your body and your wallet! They want to be able to shift the paradigm that animal based product is the best source of protein that humans can benefit from, when in fact, there are plenty of plant based ingredients that are able to fulfil the human daily protein intake, while giving your body more vitamins and fiber.
Every single menu they offer is not just vegetarian friendly, but they also don't use any animal products, no dairy or egg, nothing.  This makes them a vegan friendly restaurant. The interior is quite small and cozy, so be prepared to share a table with others when you dine alone or with a group. This, however, might be a great chance to talk to your new vegan friends!
One of the dishes you just have to try here is the hedgehog mushroom taco. The mushrooms are so crunchy and tasty, then topped with other aromatic herbs. The taco shell is a tad soft but that compliments each of the toppings served extremely well.
Other than their usual menu, they also have a daily menu that keeps on changing. You won't get bored of coming here even if you come every other day!
Confusion Plant Based Kitchen
Address: 
G/F, 103 Jervois Street
Sheung Wan, Hong Kong
Opening Hours: 
Mon-Sat: 10.30AM – 08.30PM 
Closest MTR:
Sheung Wan
10. Green Common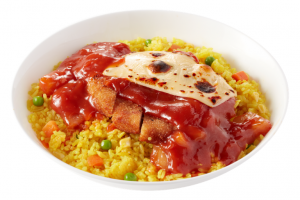 (Image courtesy of Green Common)
Started in 2012, Green Common has the mission of changing people's mindset, and to make them eat in a way that's good for them, good for others, and good for the planet. It is to substitute snacks with fresh produce, as tasty and diverse as they are nutritious, ecological, and fair, and yet, they satisfy the whole family!
Operating daily from 10.30am to 9.30 pm on weekdays and 9.30am-9.30pm on weekends, Green Common doesn't only have a restaurant, but also grocery stores featuring vegetarian dry goods and fresh produce. They also have a grab and go takeaway service with sandwiches, juices, and such.
One of my favourie dishes is the Oven Baked Vegetarian Pork Chop with Vegan Cheese in Tomato Sauce. It's a green version of the classic Hong Kong-style dish. Using meat-free products, the tasty, juicy, and crispy pork chop is smothered with melted vegan cheese and rich savoury tomato sauce, and served with aromatic turmeric grain. It tastes as good as the original one, but healthier!
Green Common
Address: 
2/F, Shop 1-2, QRE Plaza, 202 Queen's Road East
Wan Chai, Hong Kong
Opening Hours: 
Mon-Fri: 10.30AM – 09.30PM 
Closest MTR:
Wan Chai