Have you ever just laid in your bed, late at night, scrolling through instagram, when suddenly you come across that incredibly appetising picture of food from your favorite restaurant? Now, of course, you just can't sleep without having a little midnight snack. But unfortunately there's nothing to eat in the house.
Well, being foodies, we won't let that happen, for we have curated the best restaurants to go for your little late night cravings!
1. Hing Kee Restaurant     
This restaurant started two generations ago, in Causeway Bay. However, their reputation was built in Tsim Sha Tsui, especially for their Boat People style cuisine. The restaurant is run by the family, giving it a more friendly and homey feeling. The sister handles the front, customer service, and such, while the brother is kept busy working his magic in the kitchen.
The restaurant looks humble, with the menu stated in the neon box upfront. On the walls inside, you can spot tons of signatures from celebrities who have dined here. The graffiti on the wall really makes the restaurant look somewhat rustic, with the picture of their specialty menu plastered on top of the signatures.
As you enter the restaurant, you can see on the left the lines of tables for two, while on the right the tables for four. Hanging from the ceiling, you can see red lanterns arranged in a straight line, really showing the customer the type of cuisine they should be expecting.
One of their specialty dishes is the crab with black beans and chili, a unique flavour I have trouble finding anywhere else. The seafood they use is incredibly fresh, accentuating the overall taste of the dishes.
Although the restaurant looks humble, the price can be quite high for a similar type of restaurant. The crab will be priced based on its weight, so at least you won't be paying a fortune for a small baby crab!
The restaurant has a somewhat weird operational time, which is 06.00PM to 03.00AM. This makes this restaurant a perfect spot to visit if you missed your dinner, considering most of the restaurants still open at midnight usually offer a more bar-like kind of food. With this opening hour, the guests will mostly be the busiest of the bunch such as local movie stars or singers. That might explain the plethora of signatures crowding the walls!
Hing Kee Restaurant
Address:
Bowa House, 180 Nathan Road 
Tsim Sha Tsui, Hong Kong

Opening Hours:
Mon-Sun: 06.00PM – 03.00AM
Closest MTR:
Tsim Sha Tsui
2. Kozy Okonomi-yaki and Teppan-yaki
Kozy is a Japanese street food restaurant that serves you all kinds of food from okonomiyaki, omurice, to grilled meat and seafood. Located in Causeway Bay, this restaurant is open from 6PM to 3AM, a spot to remember when you have a sudden late night craving for Japanese food.
There are only a handful of tables around, with the addition of the bar seats surrounding the teppan station, so you might want to reserve to make sure you'll get your savoury Japanese pancake!
Other than the obvious, the cheese omelette is also a very popular dish here in Kozy. It is made with a thin omelette, mixed with miso and mirin seasoning with melted, gooey cheese in the middle. It's easy to see why this dish can be so popular. Not only for the cheese craze lately around the world, but also the mixture of texture and flavours, which work perfectly with each other. The omelette is crispy and thin, perfectly complementing the gooey and stretchy cheese. The slightly stronger flavour of the omelette that is seasoned with miso really gives the dish a kick, in the otherwise soft flavoured dish.
Now for the star dish, okonomi-yaki, which is a Japanese styled savoury pancake made with a flour-based batter mixed with different types of veggies and meat, topped with takoyaki sauce, mayo, Japanese seaweed, and bonito flakes. There are a few choices of okonomiyaki in Kozy, one with pork, one with spring onion, or both. The okonomiyaki is really nice and fluffy with a few crisp vegetables inside. The pork that is mixed inside really gives the okonomiyaki a boost of flavour and adds a meaty texture to go with it. The takoyaki sauce is sweet and savoury at the same time, mellowed perfectly with the lines of mayo on top. The okonomiyaki is served hot, to the point where the bonito flakes were still dancing on top of my plate!
For a better experience, I recommend you to snatch a spot in the bar if you can, where you can watch the chef create this masterpiece from scratch.
Kozy Okonomi-yaki and Teppan-yaki
Address:
9/F, Circle Plaza, 499 Hennessy Road 
Causeway Bay, Hong Kong
Opening Hours:
Mon-Sun: 06.00PM – 03.00AM
Closest MTR:
Causeway Bay
3. Tokyolima
(Image courtesy from Tokyolima)
Tokyolima is an Izakaya-styled restaurant that serves a Nikkei styled cuisine. Nikkei is a style of Japanese dish that has a Peruvian influence to it. Nikkei cuisine dates back to the 19th century, when the Japanese workers immigrated to Peru , where the two cultures began to merge. Thus, the Nikkei cuisine was born. In addition to that, Tokyolima really brings both the Japanese and Peruvian influence to their interior.
The interior of this restaurant is dominated by the warm illumination of a yellowish light and dark wooden furniture. Every element and decoration put inside the dining area has either the Japanese or Peruvian influence, or both, such the fancy lamps that showed the beautiful yet complicated Peruvian patterns, and the more sharp edged and simple partition resembling traditional Japanese decorations.
Tokyolima is owned by a Peruvian chef Arturo Melendez, so customers can be sure they are getting an authentic taste of Peru. The menu varies from fried chicken and sushi, to raw and seared food. If you can't decide on what you want to eat, there is a special menu here, much like those in omakase restaurants, which is a Please Chef, Feed Me! Menu. This menu lets the chef choose your dishes, but worry not, I loved it and so will you.
This restaurant opens from 6PM to 12AM, making it another place to consider when you want to spend the night away dining, drinking, and chatting with your loved ones and friends.
Tokyolima
Address:
G/F, 18-20 Lyndhurst Terrace
Central, Hong Kong
Opening Hours:
Mon-Fri: 06.00PM – 12.00AM
Mon-Fri: 12.00PM – 02.30PM | 06.00PM – 12.00AM
Closest MTR:
Central
4. Under Bridge Spicy Crab

(Image courtesy from Under Bridge Spicy Crab)
This restaurant has been established for more than 20 years at the Canal Road Flyover as a stall. Known as the best spicy crab served for dinner and overnight snacks, Under Bridge Spicy Crab has now become a major restaurant in Hong Kong.
To maintain the quality of the food served, the chef himself goes to the fish market at 6am to get best and freshest seafood. Not only that, but other seafood is also imported from abroad to maintain the best quality of food.
This restaurant's signature dish is "Under Bridge Spicy Crab". This dish uses meat crab weighing more than 5 catties, deep fried and cooked using secret sauce, resulting in a spicy and typical dish in Hong Kong. Customers can also determine the spiciness of the dish to their liking.
Operating from 11am to 3am daily, this restaurant provides the best dinner choices among other restaurants that are open until past midnight, especially if you're looking for heavy, authentic, and flavourful food.
Under Bridge Spicy Crab
Address:
G/F-3/F ,Ascot Mansion, 421-425 Lockhart Rd
Wan Chai, Hong Kong
Opening Hours:
Mon-Sun: 11.00AM – 03.00AM
Closest MTR:
Wan Chai
5. Ichiran Ramen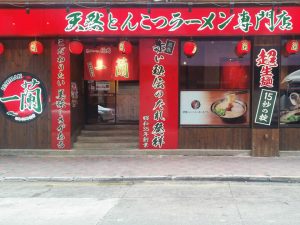 (Image courtesy from Ichiran Ramen)
Ichiran Ramen is arguably one of the most famous ramen places. Until recently, they were only open in Japan, which made it hard for everyone to get a taste of their legendary ramen. But now, they finally opened their first branch abroad, in Hong Kong! There are two Hong Kong branches, one in Tsim Tsa Sui and one in Causeway Bay.
The Causeway Bay branch is somewhat similar to the one in Japan, where the customer is seated in an individual dining booth so that each guest can really focus on the taste of their ramen. The interior of the restaurant is also pretty similar, with wooden elements dominating most of the place and little pops of red here and there.
The main difference between the original restaurant in Japan and the one in Causeway Bay is that there is much more human help and interaction in Hong Kong. As some of you may know, in Japan, the customer can seat themselves by choosing their seat from a machine on the walls, meanwhile in Hong Kong, the waiter will seat you. Also in ordering, while in Japan the guest can immediately pick their food from the vending machine, in Hong kong the guest can write each of their orders on the ordering sheet that the waiters provide. Other than that, it is mostly an authentic experience.
The most popular dish in this restaurant is obviously their tonkotsu ramen, which is a pork bone based broth, made by boiling pork bone, collagen, and fat in high heat for a long time. The end result is a whitish, creamy, and rich broth with a deep and distinct flavour. The ramen itself is made with rather thin noodles, when compared to other ramen, with a rather firm texture. It is topped with onion, red sauce, and slices of pork.
One of the things I love about Ichiran Ramen is that you can customize absolutely everything about your bowl of ramen to make it the perfect one for you. Each customer will be given a piece of paper for ordering, customer can choose the flavour intensity (weak – medium – strong), richness (none – light – medium – rich – ultra rich), garlic (none – a little – regular – ½ clove – 1 clove), green onion (none – thick green onion – thin green onion), pork slice (with – without), ICHIRAN's original red sauce (none – half – regular – double), noodle texture (extra firm – firm – medium – soft – extra soft), and contains every extra topping you can put onto your bowl of ramen. They definitely will be able to cater to most people, even though the serve only one kind of ramen.
The other great thing about Ichiran Ramen is that they are open for 24 hours, seven days a week! A go-to whenever you want a bowl of steaming hot and delicious ramen.
Ichiran Ramen
Address:
G/F, Shop F-I, Lockhart House Block A, 440 Jaffe Road
Causeway Bay, Hong Kong
Opening Hours:
Mon-Sun: 24 Hours
Closest MTR:
Causeway Bay
6. Ka Lai Yuen Chiu Chow Restaurant
Ka Lai Yuen Chiu Chow is a restaurant to go to if you want an authentic Hong Kong food experience. This restaurant is definitely something to consider if you're having a meat craving late at night, as this restaurant really takes meat seriously.
The exterior and interior of the restaurant are dominated by red and gold, familiar colours of happiness and luck. At the exterior of the restaurant, you can't miss the giant bull head made of gold, right below their name sign. As you enter, you see just what you'd expect, a busy, buzzling, humble, family styled restaurant.
Ka Lai Yuen Chiu Chow offers so many different kinds of meat. Starting from beef and pork to prawns, made into balls, dumplings, or even just sliced and cooked with noodles. Whatever you choose, the beef will definitely be the hero of the dish.
One of their most popular dishes, and my personal favourite, is the "Ten Treasures". This bowl is basically a noodle soup with ten dumplings which are the "treasures". The highlight of this dish is obviously the ten floating dumplings, all looking somewhat different as they are all handmade. The variety of the treasures is really amazing. Each gives a different tone to the meal. The dish is then topped with Fat Choy or more commonly known as Hair Moss, which is an ingredient used during Chinese New Year, black in colour and soft in texture, just like a noodle would feel like!
This restaurant has a unique operating hour, they open at 1AM. Yep, you read that right, one in the morning, and then they open through until dawn and morning, noon to evening, and close at 9PM at night. A perfect restaurant to go to when you had a few drinks and need something warm and nice to wash it all off!
Ka Lai Yuen Chiu Chow
Address:
Hong King St
Yuen Long, Hong Kong
Opening Hours:
Mon-Sun: 01.00AM – 09.00PM
Closest MTR:
Long Ping
7. Back Bar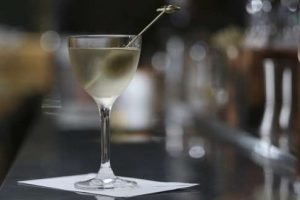 (Image courtesy form South China Morning Post)
Back Bar is a fun and buzzing bar that opened its door in Wan Chai. It is a go-to, whether you want a fun night out with friends, a quick afterwork drink, a few shots after dinner, or just want to have fun in general.
They pride themselves in their creative cocktails, where they put a more traditional and unique spin to the otherwise 'normal' cocktails, adding Hong Kong influence and giving the cocktails a taste of authentic Cha Chaan Teng.
It is not only the cocktails themselves that are creative, but Back Bar also uses pop culture references, naming their cocktails with a famous movie pun/quote. Good drinks, good atmosphere, good puns, what more can you ask for?
One of their signature drinks and my drink of choice is called Mission Ginpossible, which is chorizo-fat-washed gin mixed with olive-infused Dolin vermouth and orange bitters. This mixture gives the martini an interesting new taste: a somewhat strong chorizo flavor, though still not too overpowering.
Back Bar
Address:
7 Ship Street
Wan Chai, Hong Kong
Opening Hours:
Mon-Thu: 05.30PM – 01.00AM
Fri-Sat: 05.30PM – 02.00AM
Sun: 05.30PM – 12.00AM
Closest MTR:
Wan Chai
8. The Flying Pan

(Image courtesy of The Flying Pan)
The Flying Pan Hong Kong is a restaurant that has snatched plenty of awards, including Best Restaurant for Solo Dining Hong Kong, Best Restaurant for Breakfast Hong Kong, and Best Restaurant for Brunch Hong Kong. This restaurant focuses on breakfast food, serving you the best eggs, gritters, waffles, pancakes, teas, and coffees 24 hours a day, seven days a week. Now, you don't have a reason to skip breakfast.
The interior of the restaurant gives off a retro vibe, with tiled floors, leather sofa booths, and metal stools. Really brings you into a vintage-styled diner you'd see in 90s movies!
One of their most popular dishes is the Eggs Benedict. Soft and fluffy english muffins at the bottom, perfectly cooked eggs and ham on top, a bit of salad to add a touch of freshness, this dish is mouthwatering. The sauce was another winner, smooth and tasty, pairing really well with the ham.
I also really enjoy the atmosphere in the restaurant, it feels like a holiday: everyone is just relaxing and chatting, no matter what time it is!
The Flying Pan
Address:
1/F, David House, 37-39 Lockhart Rd
Wan Chai, Hong Kong
Opening Hours:
Mon-Sun: 24 Hours
Closest MTR:
Wan Chai
9. Ciao Chow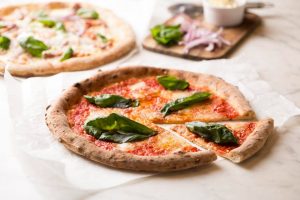 (Image courtesy from Ciao Chow)
Ciao Chow, the name of the restaurant, originates from a word play using Italian and English, literally meaning Hello! Eat!
The restaurant is an open-kitchen concept, which encourages an interaction between the chef and the guests. It also gives the guests a somewhat theatrical experience, where they can watch as their food is being prepared from scratch.
Being the first restaurant in Hong Kong to be certified by the VPN (Verace Pizza Napoletana), it is obvious that you need to try their pizza. The certification means that they use specific ingredients, techniques, even machinery to be able to create an authentic Neapolitan Pizza.
Of course, Ciao Chow offers so much more than just pizza. They offer a large variation of traditional Italian dishes such as a build your own antipasti platter, pasta, and such. Make sure to try Ciao Chow when you are craving some Italian food. I've rarely had better!
Ciao Chow
Address:
G/F, California Tower, 30-32 D'Aguilar Street, Lan Kwai Fong
Central, Hong Kong
Opening Hours:
Sun-Thu: 12.00PM – 02.00AM
Fri-Sat: 12.00PM – 04.00AM
Closest MTR:
Central
10. Burger Circus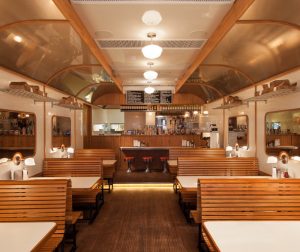 (Image courtesy from Burger Circus)
Started from an abandoned railway car, now Burger Circus has become a well-known restaurant by their playful and inviting train carriage theme. Burger circus serves guests from 11am to 11pm on Mondays to Wednesdays, and 11am to 3am on Thursdays and Fridays. It's the perfect place for those who seek a classic American dinner late at night.
This restaurant serves burgers made from five ounces of USDA-certified prime beef, grilled to order and served on a toasted soft bun, giving a touch of the late 19th-century classic American mise-en-scène to the dish. Also, fries and sides are always complimented by a selection of home-made milkshakes, sodas, and classic cocktails suitable for any time during the day.
Beside the antique carriage concept of the interior, this vintage American restaurant also accepts delivery orders. Answering all the customers' demands, the restaurant delivers the retro-food orders to all corners of Hong Kong.
Burger Circus
Address:
22 Hollywood Road
Central, Hong Kong
Opening Hours:
Mon-Wed: 11.00AM – 11.00PM
Thu-Sun: 11.00AM – 03.00AM
Closest MTR:
Central
SEE POST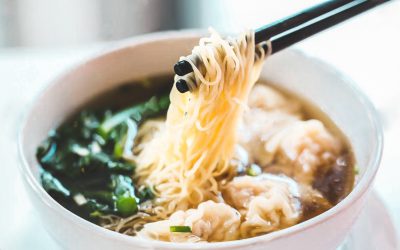 Wonton noodle is a traditional cantonese dish that consists of noodles and dumplings with broth as its soup. It has been well loved by the Chinese for...
SEE POST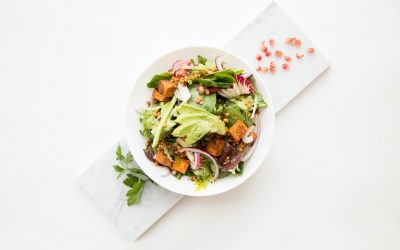 Vegetables and healthy food in general tend to have a rather bad stereotype for people, being bland and boring, even tasteless. When I was a...