The word Omakase came from the Japanese language, which directly means to entrust, or more commonly used as the translation of the phrase 'I'll leave it up to you'. Thus, omakase restaurants are a kind of restaurant that don't really give the customer the freedom of choosing what they want to order. Rather, the chef in charge will be the one choosing all of the food items that the customer will eat.
This kind of restaurant really helps the chef to be able to prepare the best conditions the food will be served on. The chef can control the flow of the meal, which meal should be eaten first, how the previous dish the customer eats might affect the taste of the next one. Other than that, this kind of restaurant will help you to broaden the type of dishes you eat.
Curious on how different the experience will be when you just let it all go and let the chef do what he does best? Here are some of the best omakase restaurant you can try out in Hong Kong!
1. Sushi Shikon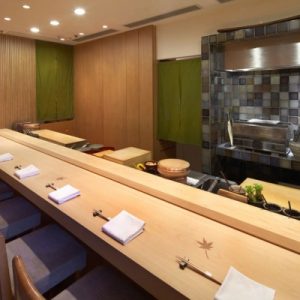 (Image courtesy of Sushi Shikon)
Shikon is an omakase restaurant that has three Michelin stars, and had kept its Michelin stars since 2014 all the way to 2018. It will provide you with an exclusive and luxurious dining experience, especially with their small capacity, making the experience seem all the more special. They only provide 8 sushi bar seats and 6 more in the private room. The sushi bar seating will enable you to watch and enjoy the steps the chef takes to create every single dish he would serve you, and not only that, but you can also ask questions at any time. The private room will provide you with more privacy, especially if you are in a rather large group, making the experience to be truly yours.
All the ingredients they use in making the sushi are superb in quality. Sushi Shikon gets all of the ingredients directly from Japan every morning.
Each sushi piece is handcrafted perfectly by the head chef, which makes it ideal for customer to eat the sushi as soon as they are served, since the chef had adjusted the temperature of the sushi rice to be suitable to the fish they used.
Sushi Shikon offers two kind of omakase, Lunch (HK$1800) and Dinner (HK$3500). For the lunch omakase, guests will be served seasonal appetizers, nigiri, soup, and dessert. Meanwhile for dinner, guests can enjoy 6 appetizers, 10 sushi pieces, soups and desserts.
This omakase restaurant has a very limited number of seats, therefore it is crucial for customers to reserve ahead of time.
Sushi Shikon
Address:
7/F, The Landmark Mandarin Oriental, 15 Queen's Road Central
Central, Hong Kong
Opening Hours:
Tue-Sun: 12.00PM – 02.00PM | 06.00PM – 8.30PM
Closest MTR:
Central
2. Kishoku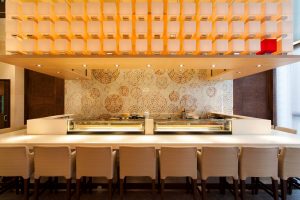 (Image courtesy from Kishoku)
Kishoku is a more casual sushi restaurant located in Causeway Bay. They offer omakase lunch and dinner with a much more affordable price compared to many other omakases. Definitely a place to go if you ever crave some omakase lunch.
The restaurant has a nice and high ceiling, making the space appear much wider and fancier. The interior is dominated by a white, cream, and golden color, giving the place an overall clean and luxurious look. The dining space consists of a rather big rectangular shaped sushi bar, where the customer can sit and enjoy watching the chef transform a variety of seafood into delicate pieces of sushi. Not only that, they also have a private room to choose if you want more privacy for your dining experience.
There are four ways you can enjoy Kishoku's omakase experience; Ki (HK$950) that includes of four of the chef's entrées and three pieces of sushi. Sho (HK$1350) is a great choice for sushi lovers, as it offers 13 pieces of sushi. With Ku (HK$1550) customers can enjoy four types of sashimi, one entrée, and eight pieces of sushi. And the most complete package they offer is the Kishoku (HK$1850) that allows the customer to indulge with seven types of sashimi, one entrée, and five pieces of sushi.
Kishoku
Address:
5/F,38 Yiu Wa Sreet
Causeway Bay, Hong Kong
Opening Hours:
Mon-Sun: 12.00PM – 03.00PM | 06.00PM – 11.00PM
Closest MTR:
Causeway Bay
3. Sushi Kohaku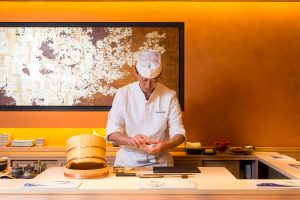 (Image courtesy of Sushi Kohaku)
Sushi Kohaku is a high-end Japanese restaurant located within the Malahon Center on Stanley Street. This omakase restaurant is dedicated to the artform of sushi making, wanting to give the customer a dining experience to remember.
The interior of this restaurant is dominated by the warm illumination of a yellowish light, giving the whole dining area a cozy and homey feel. All the decorations and elements that they choose to include in the dining area are geared to show a more traditional sense of Japanese interior, as stepping inside this restaurant, it feels like they had brought Japan to you. The sushi bar is rectangular and quite wide, giving enough space for eight customers around the table.
They offer a rather affordable lunch omakase, starting from the Tuki Omakase Sushi Set that you can get from HK$580 or a more comprehensive Hana Omakase Course for HK$800. You can already enjoy a nice and special lunch experience, while watching and conversing with the chef up close.
Sushi Kohaku offers a much more complex and complete dinner omakase, with two omakase dinner sets; Fu Omakase Sushi (HK$1580) and Getu Omakase Course (HK$2280). With a whooping 32 course meal, guests are sure to have a pleasant night and a full stomach by the end of the dinner.
Sushi Kohaku
Address:
10 Stanley St 
Central, Hong Kong
Opening Hours:
Mon-Sun: 12.00PM – 03.00PM | 06.00PM – 10.00PM
Closest MTR:
Central
4. Sushi Jin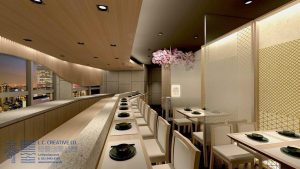 (Image courtesy from Sushi Jin)
Sushi Jin is determined to give each and every guest a warm and friendly service as you'd expect from a family restaurant. They ensure a memorable and pleasant dining experience, having combined exquisite food with a comfortable atmosphere. The interior of the restaurant is dominated by more neutral colours such as grey and creams. 
Their ingredients are flown directly from Japan, to ensure the quality and freshness of each and every single dish in their menu. They have three choices of omakase the customer can choose from; Nigiri (HK$780), Mei (HK$1000), and Zhu (HK$1200).
For the Nigiri omakase, customer can enjoy three kinds of appetizers, ten kinds of nigiri, deep fried dish, hot dish, mini sashimi on rice, miso soup, and dessert. While for the Mei, customer will get the same amount of appetizers, deep fried dish, hot dish, and dessert. But instead of miso soup, guests will get to enjoy the soup of the day and six kinds of sashimi and six kinds of nigiri. Zhu is the best omakase that Sushi Jin offers, it has four appetizers, seven kinds of sashimi, a deep fried dish, two kinds of hot dish, seven kinds of nigiri, soup of the day and desserts.
It is also highly recommended to try their lunch omakase that you can get for a very reasonable price but is constructed with great quality ingredients. Customers can get 12 pieces of the Chef's Selection of Sushi for only HK$400. All pieces sushi are super fresh and delicious, definitely worth every single penny you spend.
Sushi Jin
Address:
7/F, Kam Lung Commercial Centre, 2 Hart Ave
Tsim Sha Tsui, Hong Kong
Opening Hours:
Mon-Sun: 12.00PM – 03.00PM | 06.00PM – 11.00PM
Closest MTR:
Tsim Sha Tsui
5. WA Theater Restaurant
(Image courtesy from WA Theater Restaurant)
WA Theater Restaurant is a great restaurant to escape the busy city life, located in Sai Kung, which is the peaceful side of the east coast of Hong Kong. Tucked in the corner of Pak Sha Wan's Pier Hotel, diners can enjoy the view of the sea ahead as they dine.
The dishes in WA Theater Restaurant aren't your usual sushi, because they use the best and freshest ingredients from Japan, and cook then using French techniques.This definitely bringing the guests just enough quirk to make a lasting impression on their mind.
They offer three different omakase for the guests to choose from with the price ranging from HK$600 to HK$1100, which is quite reasonable. Umi set will serve you three kinds of appetizers, two kinds of seasonal sashimi, steamed egg, a grilled dish, kyoto vegetable udon, and a dessert. The Kumo set will serve you three kinds of vegetables, two kinds of seasonal sashimi, a grilled dish, a cooked dish, a wagyu udon, and a dessert. Their most expensive omakase is the Ten set, as getting this set will get you three kinds of appetizer, three kinds of seasonal sashimi, grilled dish, a cooked dish, rice or noodles, soup, and desserts.
The thing that sets WA Theater Restaurant apart from other omakase restaurants is that they have a great balance between raw and cooked dishes, surely a course anyone would enjoy. But make sure to reserve before going, since they order the ingredients based on the reservations made!
WA Theater Restaurant
Address:
LG/F & UG/F, The Pier Hotel, Pak Sha Wan, Sai Kung
New Territories, Hong Kong
Opening Hours:
Mon-Sun: 12.00PM – 02.30PM | 06.00PM – 11.00PM
Closest MTR:
None
6. Sushi Tokami

(Image courtesy from Sushi Tokami)
Sushi Tokami originally opened in Ginza, Tokyo, in 2013. Not long after that, in 2014, it earned its first Michelin star. Sushi Tokami is especially known for their tuna sushi. And now, the renowned sushi restaurant finally opens its first branch out of Ginza, right here in Hong Kong!
The interior of the restaurant is dominated by woody furniture and warm light, giving the space a more rustic and homey feeling. The customer will be seated around the sushi bar, so all of the guests will be able to watch the chef at work and will be able to ask them all about the dishes they're about to be served. But there are only 10 available seats in this restaurant, so make sure you make a reservation before coming!
Sushi Tokami makes sure that every single ingredient is the best there is, which is why they buy their ingredients from all over Japan. Bluefin Tuna from Oma-machi, Aomori Prefecture and Uchiura-wan Bay, Hokkaido are used to give the guests a piece of tuna that have fine, delicate meat with unparalleled flavor. Rice from the mountain region of Niigata provides the most nutrients and is cooked in the traditional Japanese olla to release its unique fragrance. They even use red vinegar instead of rice vinegar to create better taste and match with the fatty tuna. Guests are sure that they will get the best from all over Japan.
Sushi Tokami offer omakase set for HK$2200. In this set, guests can enjoy a starter of a Tuna Tossaki Temaki (handroll), an appetizer of a seasonal snacks, seasonal sashimi, today's special as another snack, a steamed dish or a grilled dish, twelve pieces of specially selected sushi, a special tamago, a bowl of tuna bowl collagen soup, and a seasonal fruit for dessert. Though the menu above is just a reference, as all the ingredients will change according to the season and availability in Japan.
Sushi Tokami
Address:
3-27 Canton Rd
Tsim Sha Tsui, Hong Kong
Opening Hours:
Mon-Sun: 12.00PM – 03.00PM | 06.00PM – 10.30PM
Closest MTR:
Tsim Sha Tsui
7. Sushi Saito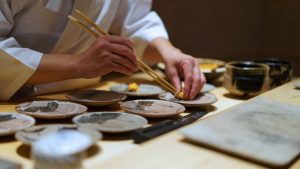 (Image courtesy of Sushi Saito)
Sushi Saito is one of the hardest restaurants to reserve in Tokyo, which is why when they announced they were opening a branch in Hong Kong, people were understandably excited. As their first branch out of Japan, Chef Saito is determined to keep the quality of each dish as pristine as the one in Tokyo. This is why all ingredients flown daily from Japan after being hand picked by Chef Takashi Saito every morning in Tsukiji Fish Market in Tokyo.
The chef that is in charge of serving the Hong Kong branch is the talented 29 years old Ikuya Kobayashi, who is Chef Saito's second in command and has been working in Sushi Saito Tokyo for 8 years. Hong Kong guests are definitely in good hands.
The restaurant is located in Four Seasons hotel, viewing the city skyline, guests can definitely relax and unwind from the hectic city atmosphere. Its interior is dominated with brown and woods, making the guests feel as if they have just stepped into a time machine and was brouGht back to the traditional Japan.
Sushi Saito offers a lunch and dinner omakase, with the full omakase dinner including tsumami and nigiri that will cost guests HK$3280 and a shorter lunch version that includes 14 nigiri sushi and soups  that will set you back HK$1480.
Sushi Saito
Address:
45/F, Four Seasons Hotel, Hong Kong, 8 Finance St
Central, Hong Kong
Opening Hours:
Mon-Sun: 12.00PM – 01.30PM | 06.00PM – 08.00PM | 08.15PM – 10.15PM
Closest MTR:
Central
8. Uogashi Sushi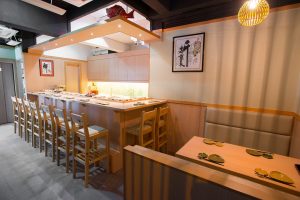 (Image courtesy from Uogashi Sushi)
Uogashi Sushi is a little gem in the neighborhood od Seung Wan District, easy to miss due to being in the middle of a residential area.
Once you step into the restaurant, you'll notice how much more humble this omakase restaurant is compared to others. The restaurant really makes you feel like you're home, no too-fancy decor that might intimidate you. The restaurant consists of a rectangular shaped sushi bar and a booth for a more private dining experience.
They have an affordable choice of menus, with their Full Course costing you HK$1180. This restaurant differentiates itself from other omakases by adding soba to their course, a nice palette cleanser after a few courses of raw fish.
Uogashi Sushi
Address:
32 Tai Ping Shan Street
Sheung Wan, Hong Kong
Opening Hours:
Mon-Sat: 12.00PM – 03.00PM | 06.30PM – 11.00PM
Closest MTR:
Sheung Wan
9. Sushi Man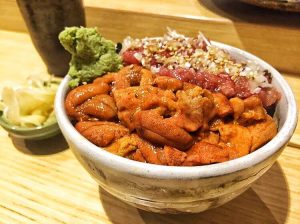 (Image courtesy from Sushi Man)
Sushi Man is another private setting omakase restaurant, with only eight seats available and a bigger table for a more private dining experience that has to be booked far in advance.
The interior of the restaurant consists of an L shaped sushi bar, with wooden elements and warm colors to bring the customer a comfortable dining experience. There are two to three chefs that are working in each service, that way the customers can really engage and enjoy a true, private dining experience.
Sushi Man offers different menus, starting from  à la carte to set menu. But most customers opt for the Omakase option. There are two options for the omakase sets, the HK$1350 set which consist of steamed egg, 12 kinds of sushi, a Cup on Uni, Temaki, Soup, and Kudamono. The other is the one that will set you back HK$1750 and instead of having 12 kinds of sushi, guests will be served 6 kinds of sashimi and 8 kinds of sushi.
The star of the omakase at Sushi Man is the Uni bowl, which consist of a small amount of rice topped with plenty of uni, and a piece of ebi on top. This dish is clearly a delicacy, beautiful layers of velvety and buttery uni, mixed with the slightly savory rice, definitely a dish you'll remember!
Sushi Man
Address:
6 Tak Hong Street (Across from Whampoa MTR Exit A)
Kowloon, Hong Kong
Opening Hours:
Mon: 12.00PM – 02.30PM
Tue: 12.00PM – 02.30PM | 06.00PM – 10.30PM
Wed: 06.00PM – 10.30PM
Thu-Sun: 12.00PM – 02.30PM | 06.00PM – 10.30PM
Closest MTR:
Whampoa
10. Sushi Hana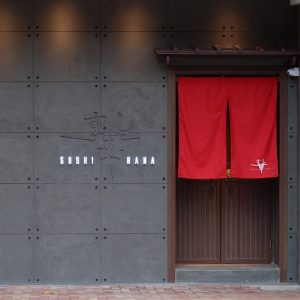 (Image courtesy from Sushi Hana)
Tired after exploring Tai Hang District? Replenish your energy by visiting this simple and friendly sushi spot. Though the exterior of the restaurant is rather unsuspecting,  if you are planning to visit this sushi spot, make sure to look for the red door curtain.
Once you enter the restaurant, it's like a totally different place from the outside. The interior is fancy, with a lot of lights and wooden decorations on the wall, it really gives the interior the perfect combination of elegance and traditionalism. The dining place consists of a rectangular shaped sushi bar, where the guest sit around.
The menu in Sushi Hana is pretty varied, from the sets including just sushi options to omakase options. The omakase option they offer is definitely a more varied meal compared to the other options, with the combination of sushi, raw and cooked meal, all structured perfectly by the chef.
The highlight of the omakase set here in Sushi Hana is probably their sardine roll, which is not only pretty to look at, but a total delight to eat. This roll consist of a thick piece of sardine wrapped with pickled radish, nori, and shiso leaf. The herbs definitely helps in giving the fatty fish a fresher taste.
Sushi Hana
Address:
G/F, 142 Tung Lo Wan Road
Tai Hang, Hong Kong
Opening Hours:
Mon-Sun: 12.00PM – 02.30PM | 06.00PM – 10.30PM
Closest MTR:
Tin Hau
SEE POST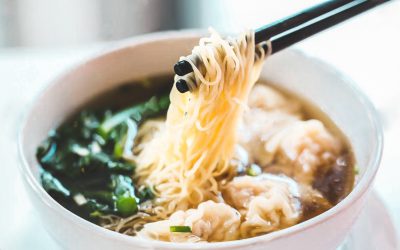 Wonton noodle is a traditional cantonese dish that consists of noodles and dumplings with broth as its soup. It has been well loved by the Chinese for...
SEE POST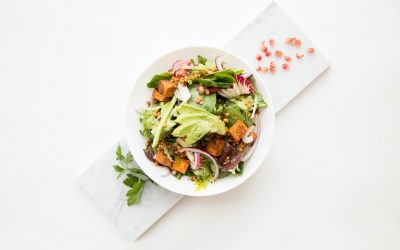 Vegetables and healthy food in general tend to have a rather bad stereotype for people, being bland and boring, even tasteless. When I was a...